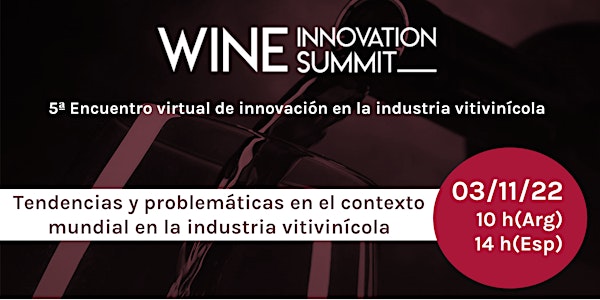 WINE INNOVATION SUMMIT - QUINTA EDICIÓN
WINE INNOVATION SUMMIT es el primer encuentro con foco en la innovación de la industria vitivinícola.
Acerca de este evento
PROGRAMA
Apertura: Magdalena Pesce, CEOde Wines Of Argentina (Wofa)
Bloque 01
>Carla Grosso Head Farmer Sales de Kilimo
>Ing. Agr. Vanesa Vignera, Crop Nutrition Business Manager de Incentia, DVA Argentina. Bioestimulantes en la vid.
> Guillermo Corona. Consultor BID y Virginia Furlani, Coordinadora I+D+i COVIAR. Caracterización de Zonas Vitivinícolas
Bloque 02
> Marcelo Andino Product Owner de Qúbigo bodegas - "La mejor forma de gestionar el vino"
>Lis Clement, Gerente Comercial de Bodega Clement
>Mike Barrow CEO de Openvino - "OpenVino: BioDigital Certificación, Tokenización, y Trazabilidad de los vinos"
>Ignacio Indaburu Head of Operations de Satoshi Tango
Bloque 03
> Nicolás Pons, Responsable de Kinto. Movilidad Corporativa
>Axel Marinsek, eCommerce Manager de Wunderman Thompson Argentina y Chile. "Tendencias de los consumidores en redes sociales"
> Ignacio Caride, SVP eCommerce Wallmart México & Centroamérica
> Estefanía Bruggia Brand & Communications Manager de Shipnow, Logística pieza esencial para convertir una entrega en una experiencia.
Cierre :
Sponsorean: KINTO & INCENTIA - DVA ARGENTINA