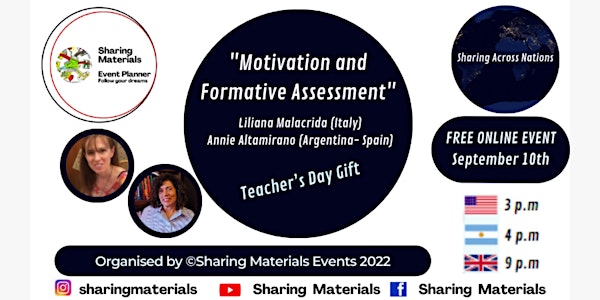 Sharing Across Nations "Motivation and Formative Assessment"
Sharing Materials invites you to participate in the 2nd Webinar Series for English Language Professionals & Advanced Language Users
Acerca de este evento
"Motivation and Formative Assessment" by Liliana Malacrida (Italy) and Annie Altamirano (Argentina- Spain)
Free Event - Teacher's Day Gift
Our events were honored with the recognition of events of Cultural Interest by the Municipality of General Pueyrredón, Argentina in 2018, 2019 and 2021.
Organized by Sharing Materials Events 2022
✅When? September 10th - 4pm (Argentina) Check the time in your city here, please
✅Where? Online by Zoom
Duration: 1h
✅Target Audience: English Language Professionals & Advanced Language Users
✅Abstract
Motivation
Teachers consider motivation of the students as the most influencing factor that can determine success or failure in second language learning process. But is experience a key value to apply this model appropriately? In a recent study in Korea , Maeng and Lee (2015) found that more experienced teachers did not use motivational strategies as often as they younger collegues did. The purpose of the question on experience was to understand the extent to which motivational strategies are acquired through a specific educational process. Bernaus and Gardner (2008) , who investigated the use of motivational strategies in Spain, also came to the conclusion that the attitude toward the learning situation influences achievement independently from the use of motivational strategies. This study suggests that strategies are effective only when students recognise them and perceive them as useful in addition to a good relationship with the teacher.
Formative assessment
In schools, the most common form of assessment is summative, which is used to measure what students have learnt at the end of a unit or term. Formative assessment, on the other hand, gives teachers the opportunity to gather evidence about student achievement in relation to success criteria, enables students to demonstrate what they know and can do, clarifies student understanding of concepts and promotes deeper understanding.
In this session Annie will present the ten principles of formative assessment as well as an outline of its main components and the role it plays in our teaching practice.
✅About the speakers
Liliana Malacrida: ESL Teacher (English as a Second Language Teacher) at British Institutes Milano Affori Italy, ESL Teacher (English as a Second Language Teacher) at Oxford International Education Group, Former Humanities teacher at IIS M. Curie - P. Sraffa Milano Italy, Humanities teacher at IIS LAGRANGE Milano Italy.
Annie Altamirano: Annie graduated from teacher training college with a first class degree in teaching English as a Foreign Language in Argentina and holds an MA in ELT and Applied Linguistics from the University of London. She has given teacher-training workshops in Europe, Asia and Latin America. Her latest published work includes Cambridge Global English Teacher's Resource, 2nd ed., published by Cambridge University Press. For many years she served as Cambridge English Speaking Examiner and as a Cambridge English Language Assessment presenter. She is currently part of the Cambridge Teacher Support Service Team of mentors and the Vice-president of TESOL-SPAIN.
✅The event will be delivered by zoom up to 100 participants and broadcasted by Youtube
✅Once registered you will receive the link to join the meeting. Check your spam folder, please.
✅Upgrade your webinar for U$1 (+ taxes) and get your certificate of attendance. 
✅Contact the organizer before the event if you don't receive the link, please
+54 9 (291) 4043129