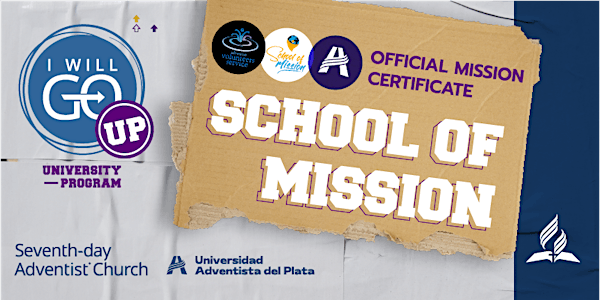 School of Mission
School of Mission is a space in which we dive into different cultures, religions and personal experiences.
Acerca de este evento
Intensive training in 10 virtual classes led by trained mentors from all over the world. Upon successful completion of this training and its final exam, participants will be awarded an official certificate from Universidad Adventista del Plata and the Adventist Volunteer Service.
Who is this for? College students (Who are studding in a Adventist University, and also those who are not but currently attend a college). It's also for high school students, school staff, institution directors, pastors, and church members who focus in the work with college youth.
We will use a Virtual Campus, where you will have access to all the necessary material for this experience. Also, we will use the Zoom app for our weekly classes.
CLASS 1 (September 4): "Secular Mind" - Jonathan Contero (Director of Secular Mind in the GC for the Inter-European Division).
CLASS 2 (September 11): "Buddhism" - Yure Gramacho (Missionary, and works in Angola has gained experience with Buddhism).
CLASS 3 (September 18): Contextualizing (Shock Cultural) - Cheryl Doss (Director of Transcultural Training in the GC)
CLASS 4 (September 25): "Judaism" - Ari Lattes (Adventist Pastor, Jewish descendant)
CLASS 5 (October 2): "Overcoming Stereotypes" - Maijo Roth ((Director of Family Department in the Spain Union)
CLASS 6 (October 9): "Islamism"
CLASS 7 (October16): "Hinduism" - Marcelo Dias (Professor of Missiology in the postgraduate program in UNASP)
CLASS 8 (October 23): "World Mission" - Elbert Kuhn ((Director AVS in the GC)
CLASS 9 (October 30): "Digital Mission" - Sam Neves (Associate Director of Communication in the GC)
CLASS 10 (November 6): "Mission in the Big Cities" - Kleber Gonçalves ((Director of the Center of Studies on Secularism and Postmodernity)
Final Test: November 13
Graduation: November 21
For more information you can contact us by: iwillgo.uap.edu.ar