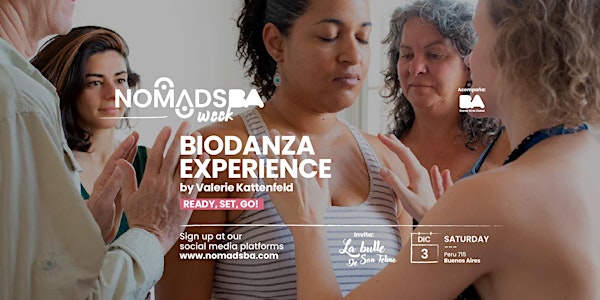 SAT 3 DIC | Biodanza Experience | Free class | Nom
Biodanza is an amazing practise that combines easy movement with wellbeing and community building. Never heard of it? Give it a try!
Cuándo y dónde
Ubicación
La Bulle - Residencia artística 715 Perú Buenos Aires, CABA C1068 Argentina
Acerca de este evento
BIODANZA EXPERIENCE - CONSCIUS DANCE WITH VALERIE KATTENFELD!
FREE & ENGLISH EVENT!
📆 28 NOV | 11 am | La Bulle de San Telmo - Peru 715
Limited places!!!
📌 ABOUT THIS EVENT
Biodanza is an amazing practise that combines easy movement with wellbeing and community building. Never heard of it? No worries, now is your opportunity to give it a try!
Biodanza has been designed to give people a sensation of joy, belonging, pleasure and confidence. In a safe guided space the participants are invited to move freely in the way they need to - there are no steps to "get right"! All dance impulses are explained by a facilitator and designed to make everyone feel good. Biodanza has helped people all around the world to overcome shyness and social anxiety, release tension in their bodies and connect to their purpose. The most magic part is probably the connection between the group members - it is stunning to experience how a 3 min shared rhythm can make us feel closer to someone than a 3 hour conversation...
You will leave the class having met new friends, with a light heart, softness in your body and a smile on your face!
Our facilitator is Valerie Kattenfeld from Vienna, Austria. After 15 years in theater and contemporary dance she traveled around the globe and finally started over in Argentina - because of her love for Tango! In Jan 2019 she just booked one Biodanza module in order to find new friends, but then fell in love with the methodology. This year she graduated as a Biodanza facilitator (having studied 3 years with Raul Terrén and Veronica Toro, the daughter of Biodanza founder Rolando Toro), opened her weekly international group and gave a TED talk about Biodanza in Patagonia.
Valerie is passionate about building bridges between people through movement and transmit values such as empathy, presence and authenticity. Her classes have helped many people from Vietnam to the United States to connect deeper to themselves and have happier, healthier relationships.
Besides Biodanza, Valerie works with authentic Tango tourism, organises Milongas and gives Tango classes, based on her own methodology "Biotango". She runs dance retreats in the Delta in Tigre and tours with Biodanza & Biotango classes worldwide.
Find her online on www.valeriekattenfeld.com & IG: @valeriekattenfeld
💣 ABOUT NOMADS WEEK
The biggest in-person conference for digital nomads, remote workers, and freelancers in Latin America.
From November 28nd till december 3th, Buenos Aires will be hosting hundreds of Digital Nomads from all around the world in a whole and full of events week around the city
Workshops, Airbnb experiences, tours, yoga, bbq, open coworking, networking cocktails, and international speaker conferences, and many more free activities to enjoy the city, make contacts and friends and connect with your digital entrepreneurship side.
Discover the mix between remote work, a nomad community, and Buenos Aires exiting culture
💻 Join us to meet the community !
Freelancers y profesionales
That's why "NomadsBA Culture" exists, a proposal totally created to share cultural activities in Buenos Aires among nomads: events, tours, guided tours, shows and experiences. Always free exclusively for the community! 🤝🏻
Throughout this year we will carry out more activities of Nomads BA Culture and other experiences such as: Nomads BA Talks, Nomads BA Party, Nomads BA Wellness, Nomads BA Volunteering and Nomads BA Open Coworking, with the goal of boosting and connecting the community and, obviusly, know the best of this amazing city. 🏙️
📲 To find out about all the news and free activities that you can enjoy in the city this year, join our platforms:
•Discord: https://bit.ly/3e3gIOB
•Meetup: https://bit.ly/3cwJBTc
•Whatsapp group: https://bit.ly/3RrtF35
•Youtube: https://bit.ly/3CLcNk2
•TikTok:https://bit.ly/3R3oaIj
•LinkedIn: https://bit.ly/3eazHXw