Descripción
TRISTAN KROMER EN ARGENTINA -
El contenido de este encuentro será dado en Inglés.
Cupos limitados, evento por postulación, confirmaremos los inscriptos a partir del lunes 11/04.


Description
Should I run a Concierge or a Wizard of Oz test? Maybe a smoke test? And what exactly is "Picnic in the Graveyard"?
Lean Startup is full of buzzwords and jargon that is beyond confusing. Our reaction is to over simplify our advice to startups into Step 1, 2, 3 dogma that often results in bad advice. Does every startup need to create a early signup smoke test? Will a B2B product focused on the energy sector really have a CIO sign up based on a landing page?
Real Startups don't need dogma or a step by step process. They need a well organized toolbox that let's them choose the right tool at the right time.
This talk will focus on how to coach startups to identify their biggest risks and choose the right experiment or research method to find their business model.


You should attend if...
- Team has adopted lean startup principles.
- Utilized various methods and experiments, but without clear learning goals and experiment design.
- In need of frameworks to help drive asking the right questions and selecting the right methods.


To get the most out of the talk, you should...
- Have a basic understanding of lean startup principles
- Have designed and ran experiments before
- Have access to a valid paying customer segment (or have validated channels to find them)


You should leave with...
- Toolbox of research and experiment techniques to select the right tool at the right time
- Experimentation and research design techniques
---------------------------------------------------------------------------------------------
About the Speaker
Hi, I'm Tristan Kromer and I help product teams go fast.
I am originally from New York City, have lived in Germany, Switzerland, Taiwan, Vietnam, and currently reside in San Francisco, USA.
As a lean startup coach, I work with innovation teams to run at least one experiment/research per week to improve their product and business model.
To do this, we apply lean startup principles and break down big problems in small steps.
For early stage startups, I volunteer my time Lean Startup Circle and hold regular office hours.
For larger companies and governments, my team at TriKro LLC and I coach teams on an ongoing basis and help design Innovation Ecosystems.


Professional Life
I've worked with established businesses with >$10M USD revenue (Kiva, JustAnswer, StumbleUpon, Credit Sesame) to enterprise companies with >$1B USD revenue. (Swisscom, Pitney Bowes, Fujitsu, LinkedIn)
I've designed lean startup programs such as the Build or Die Bootcamp for TechBA (Mexico) and the Lean Reactor(Belgium) in addition to being part of Luxr whose Core Curriculum has been used by 13 accelerators internationally including Singularity University, 500 Startups, & The United States Innovation Fellows.
I regularly speak, appear on panels, and give workshops internationally with organizations such as the Stanford Center for Entrepreneurial Studies & D-school, Global
Product Management Talks, Lean Startup Machine, General Electric (GE), and more.
With my remaining hours, I volunteer with Lean Startup Circle, a non-profit grassroots organization helping to develop innovation ecosystems with meetups in over 80 cities around the world.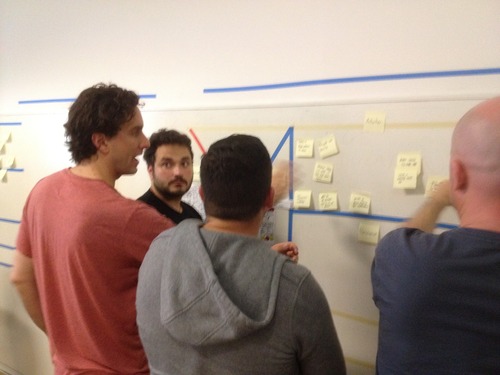 Co-organizer:

Interested links
Live performance workshop: https://www.youtube.com/watch?v=EYA6Z45x2UM
Profesional Website :http://www.trikro.com/
Blog: https://grasshopperherder.com/
Lean Startup Circle: http://www.leanstartupcircle.com/
Lean Startup Buenos Aires: http://www.meetup.com/Lean-Startup-BA/