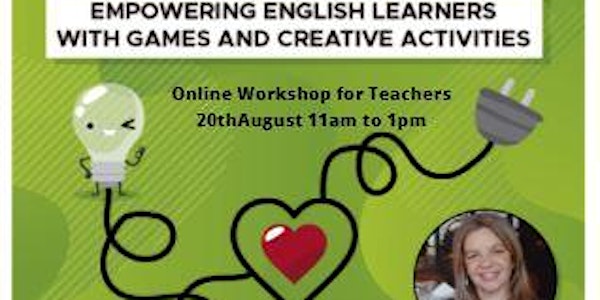 Empowering Students to Become Better Learners
Games and Stories to empower students
Política de reembolsos
Comunicate con el organizador para solicitar un reembolso.
El costo del servicio de Eventbrite no es reembolsable.
Acerca de este evento
During the presentation all participants will be encouraged to play the games proposed, so they can really put themselves in their students' shoes. People learn better by doing and experimenting. After playing, participants will analyze the use of these games and reflect upon how these games can empower their students. They will also analyze how they can transfer these ideas to their teaching practice. . Participants will leave the session empowered and full of energy and ideas about how to implement games into their lessons.
María Celeste Grimau holds a degree of Licenciada en Inglés graduated from Universidad FASTA and has done Post-graduate studies at the University of Maryland, USA. She is the director of STEPS – Cross-Cultural Understanding and has been Head of English Department of "Colegio Del Sol ''.She has contributed articles on education to ARTESOL magazine, the Buenos Aires Herald and has also written articles and activities for the magazine English Teaching in Action.Celeste offered a number of workshops in Argentina and Chile related to games and creativity. She is the editor of Tick Tack Toe magazine and has published three e-books: Vitamin Shock Games 1, 2 &3. Celeste is a storyteller who specializes in storytelling as a teaching tool as well as games to teach languages. She has developed her own methodology based on the use of games in the classroom and has extensively researched the relationship between play and the brain.She has been a guest speaker in many international conferences for teachers of English in Argentina, Chile, Paraguay and Egypt .She has also developed a series of online workshops -The Extra Mile- for teachers around the world to show how to teach English using games and play in the online lessons At the moment, she is studying Drama at the Universidad Nacional de Rio Negro. Celeste is part of the ARTESOL Board.She is a passionate teacher who considers teaching not only her job but her mission.