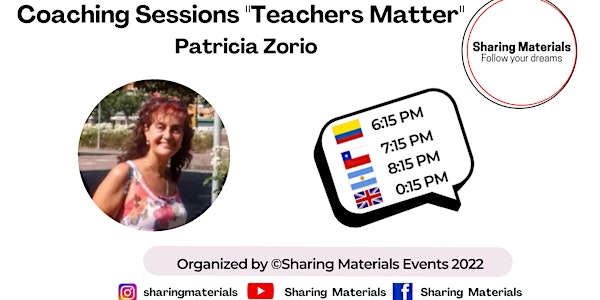 Coaching Sessions "Teachers Matter" by Patricia Zorio - Sharing Materials
Política de reembolsos
Comunicate con el organizador para solicitar un reembolso.
El costo del servicio de Eventbrite no es reembolsable.
Conversation and coaching sessions to update oral skills , discuss conflict in the class and ensure teachers and students´well-being.
Acerca de este evento
✅Welcome to our Coaching Sessions "Teachers Matter" by Patricia Zorio - Organized by Sharing Materials
✅Abstract:
Research indicates that XXI century educators must endeavour to teach learners how to alleviate and manage stress, understand their emotions and develop a growth mindset. They should also prioritise creativity, collaboration, communication, critical thinking and innovation in their classes. But how can stressed, overwhelmed , drained teachers achieve these goals?
It is my belief that we must work on our emotional and physical well-being first as well as improving our communication skills so as to gradually share these "super powers" with our students.
These coaching sessions will contribute to helping teachers who feel their language has become a bit rusty . By debating, analysing and interacting with peers they will also learn to overcome difficult times ,avoid negative behaviour and anxiety and help their students achieve successful outcomes with long-term effects.
✅ When?
July 5th - DEVELOPING A GROWTH MINDSET
August 16th - EMOTIONAL INTELLIGENCE - How to handle situations when we are under pressure.
You can attend one, some or all the sessions
1 Tuesday per month during 4 months, from 8:15 p.m to 9:15 p.m.
✅About the Facilitator:
Teacher of English since 1983, she started her career in Olavarría, Bs As, where she was head of Santo Tomás de Aquino Bilingual School. In 1993 she joined Asociación Rosarina de Cultura Inglesa, where she is still working as a teacher at different levels. As well, she is in charge of the Drama Club and an annual Continuous Professional Development seminar on Methodology for teachers in the same institution. She has been Cambridge Speaking Examiner since 1996.
Due to her love of drama, she was Buenos Aires Players´representative from 2001 to 2013. Since 2003, she has been attending lectures, seminars and workshops in both English and Spanish so as to gain insight into Applied Drama as an educational resource.
In search of inspiration and tools to change educational paradigms, she became a certified Ontological Coach in 2013 and later specialised in Educational Coaching. In 2016 she got her degree as a Psychodrama practitioner as well. In 2017 she attended an annual seminar on "Emociones y Salud. Una Mirada desde las Neurociencias", at UNR from where her interest in Emotional Learning stems.
She has been lecturing and coordinating seminars and workshops since 2001. In 2013 she founded Cre-Arte, providing coaching and pedagogical consultancy services to teachers, individuals and institutions.
✅Certificate of Attendance & Digital Material will be issued.
✅Contact the organizer for further info, or to ask for other means of payment .
📌Participants from Argentina (Bank Transfer, Cuenta DNI)
📌Participants from other countries (Paypal)
Andrea Pollera
(+54) 9 2914043129
Organized by ©Sharing Materials Events 2022