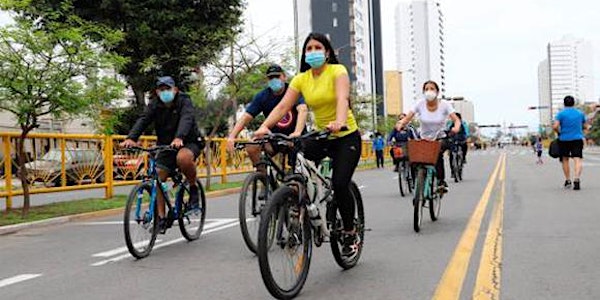 BA Cycling
Let's bike through the most beautiful places in the city!
Cuándo y dónde
Ubicación
Plaza Serrano Nicaragua 4817 Palermo, CABA 1414 Argentina
Acerca de este evento
💣 ABOUT NOMADS WEEK
The biggest in-person conference for digital nomads, remote workers, and freelancers in Latin America.
From November 28nd till december 3th, Buenos Aires will be hosting hundreds of Digital Nomads from all around the world in a whole and full of events week around the city
Workshops, Airbnb experiences, tours, yoga, bbq, open coworking, networking cocktails, and international speaker conferences, and many more free activities to enjoy the city, make contacts and friends and connect with your digital entrepreneurship side.
Discover the mix between remote work, a nomad community, and Buenos Aires exiting culture
Check the complete calendar at https://nomadsba.com
📌 ABOUT THIS EVENT
It is a walk that runs historically since the May Revolution (1810), the time of Rosas 1829-1952) the consolidation of the National State and agro-export model (1860-1930).
We leave from Nicaragua 4817 and Borges (Plaza Serrano), we go to the Bosques de Palermo, then we cross the Barrio de Belgrano, we pass through Chacarita and we return to Plaza Serrano.
📆 AGENDA
30 NOV - 9 to 12 - Punto de encuentro: Nicaragua 4817 y Borges (plaza Serrano)
Reserve your place on this link and get your tickets
This event is FREE.
Hope to see you there!
🌏💻🎉 Nomads BA
Join us to meet the community !
Freelancers y profesionales
That's why "NomadsBA Culture" exists, a proposal totally created to share cultural activities in Buenos Aires among nomads: events, tours, guided tours, shows and experiences. Always free exclusively for the community! 🤝🏻
Throughout this year we will carry out more activities of Nomads BA Culture and other experiences such as: Nomads BA Talks, Nomads BA Party, Nomads BA Wellness, Nomads BA Volunteering and Nomads BA Open Coworking, with the goal of boosting and connecting the community and, obviusly, know the best of this amazing city. 🏙️
📲 To find out about all the news and free activities that you can enjoy in the city this year, join our platforms:
•Discord: https://bit.ly/3e3gIOB
•Meetup: https://bit.ly/3cwJBTc
•Whatsapp group: https://bit.ly/3RrtF35
•Youtube: https://bit.ly/3CLcNk2
•TikTok:https://bit.ly/3R3oaIj
•LinkedIn: https://bit.ly/3eazHXw