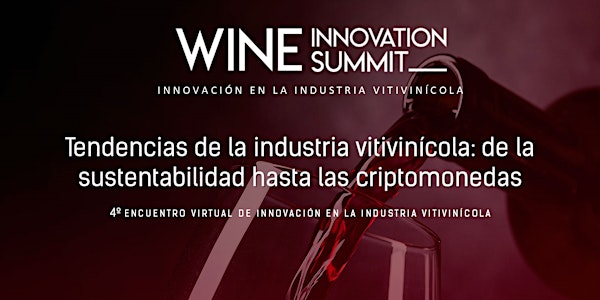 WINE INNOVATION SUMMIT - CUARTA EDICIÓN
WINE INNOVATION SUMMIT es el primer encuentro internacional con foco en la innovación de la industria vitivinícola.
Acerca de este evento
Programa
APERTURA: Raimundo Swett, Director Comercial de #Prochile en Argentina
Bloque 01 INNOVACIÓN AGRÍCOLA
> Luis Romito es Coordinador de la Comisión de Sustentabilidad de Bodega de Argentina
>Vanesa Vignera, Crop Nutrition Business Manager de DVA Argentina. Bioestimulantes en la vid
>Cecilia Acosta, Gerente Agrícola de Bodega Argento. Las hormigas trabajo y convivencia
>Dra. Carla Grosso Head Farmer Sales de Kilimo – Tecnología aplicada al riego eficiente en vid: el caso de Chandon, Ing. Agr. Mariano Andrés Dorado en Chandon y Terrazas de los Andes.
Bloque 02 INNOVACIÓN EN BODEGA
>Alex Cereghini, Sales & operations Director Latam de Esker Inc. -¿Qué es el crecimiento de suma positiva?
> Federico Azeglio, Director Regional NOA, Cuyo y Patagonia de Adecco Argentina
>Marta Arranz, Enóloga y especialista en WQS, Vinventions España. Innovaciones en tapado sustentable de vino: SÜBR y Nomacorc Blue Line
>Bodega Oceánica José Ignacio – Proyecto Ultramar
>Fernando Buscema, Director Ejecutivo del Catena Institute of Wine y CEO de Qualab. ¿Qué tienen en común el vino y el cannabis?
> Presentación de 4m3.Bio
Bloque 03 INNOVACIÓN BODEGA PUERTAS AFUERA
>Rodrigo Exequiel García Durá, Developer Business de Pi Data Strategy & Consulting & Sebastián Aveille, director de Pymes de Microsoft Argentina - Inteligencia Artificial para transformar la industria del vino.
>Ignacio Indaburu Head of Operations de Satoshi Tango -Vinos y cripto, maridaje perfecto para hacer expandir negocios
> Luciano Rafowicz, Sales Manager Latam at Summa Solutions BrandLive by Infracommerce - El Crecimiento del Digital Commerce en la industria vitivinícola en los últimos años
Cierre : Mario Lazzaro, Gerente General de Fundación Promendoza
SPONSOR: SATOSHITANGO - ESKER - KINTO - VINVENTIONS - Pi Data Strategy & Consulting - Incentia Crop Nutrition
APOYOS INSTITUCIONALES: INV - INAVI - BODEGAS DE ARGENTINA - PROMENDOZA - GOBIERNO DE MENDOZA - EMBAJADA DE URUGUAY EN ARGENTINA - COVIAR.