Redistricting impacts our ability to use our collective power to elect folks who represent our communities. Join us June 21 to learn more.
About this event
This year, the State of Michigan is engaging in a process called redistricting which impacts our ability to elect folks who represent our communities and use our collective power.
Join the Latina Network of West Michigan and Urban Core Collective on Tuesday, June 21 at 6pm on our Latina Network Facebook Page live to learn how we can impact the process, play some trivia and win one of three $20 gift cards.
This session will prepare you to participate in the July 1 Public Hearing of the Michigan Independent Citizen Redistricting, being hosted at Devos Place from 6-9pm should you want to further your civic engagement and share your input at the hearing.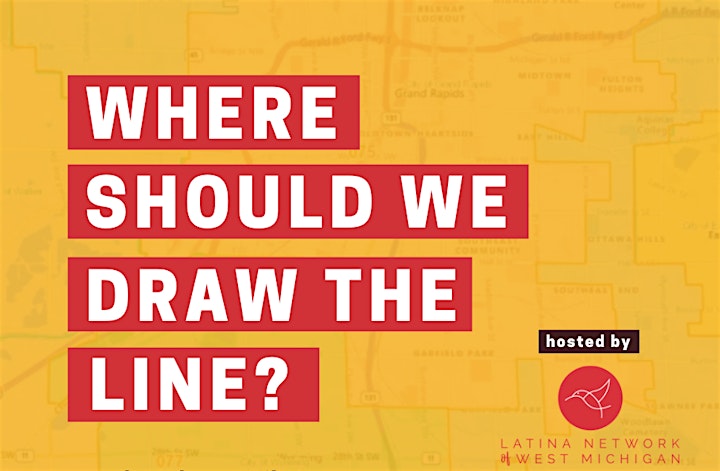 Organizer of Where Should We Draw The Line? Why Redistricting Matters.
The Latina Network of West Michigan is a collective of women designed to lift up Latina leadership by serving as a resource for racial equity, advocacy, and connections. We strive to be a catalyst for systemic changethrough leadership development, a space of cultural belonging, and reclaiming the Latina narrative. The core values that guide our work include:

Culture

– We embrace and affirm our diverse cultures and identities.

Courage

– We believe in courageous leadership and action rooted in a responsibility and accountability to the community.

Community

– We support the creation of genuine relationships and systems of support within the network and with external allies.

Authenticity

– We support bringing our whole selves unapologetically in all spaces.

Equity

– We believe "an injustice anywhere is a threat to justice everywhere," therefore we work to eliminate bias and the marginalization of vulnerable communities.