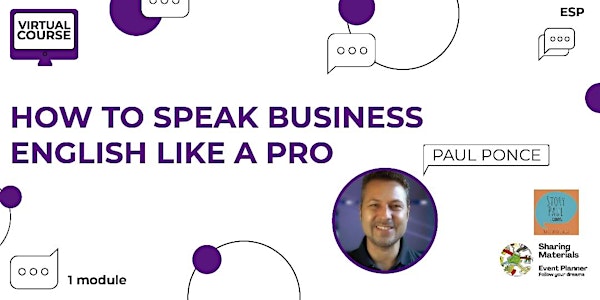 Virtual Couse How to Speak business English like a Pro - By Paul Ponce
WHEN: ONLINE – ANYWHERE – ANYTIME - You can do the course at your own pace. Estimated time per week 1 hour and a half.
Acerca de este evento
Virtual Couse How to Speak business English like a Pro - By Paul Ponce (1 module)
Organized by Sharing Materials Event Planner
✅WHEN: ONLINE – ANYWHERE – ANYTIME - Using virtual classroom
✅DURATION: 1 MONTH
✅MATERIALS: Provided through the virtual classroom.
✅Target Audience: Professionals, Entrepreneurs, Translators, Teachers & Advanced Students of English.
✅What will you learn?
How to speak Business English- Biz -Talk - Tools of Coaching for job interviews in English, presentations and meetings, for English learners and English teachers.
✅About the speaker
Paul is an American TESOL-Certified English Teacher and educational Content Creator. He grew up in Miami Beach, Florida and currently lives in Buenos Aires, Argentina. He has a bachelor's degree in audiovisual communication, and earlier in his career, he worked as a television writer and producer. Over the last 20 years, Paul has been helping learners from all over the world become confident English speakers —from young students in Asia to business executives in Latin America. Paul's approach to teaching can be best described as edutainment, which means education and entertainment combined. This is because Paul understands that learners in the 21st century are eager for new knowledge, but they live in an age of hyperstimulation, meaning they will often lose interest if the learning is not engaging. This is why Paul makes his classes fun and memorable through games, stories, songs, and characters. He also produces entertaining educational content for language learners, which he shares with his students and online.
✅Certificate of Attendance & Digital Material will be issued.
Sponsored by Anglia - The Ibero-American Network, Story Paul, Syzygy resources and Useful Printable Worksheets
✅Lauching Promo. Virtual Course +Webinar (Tickets)
✅How to enter the course:
Once you've paid , you enter the course.
1- Send a proof of payment by Whatsapp +54 2914043129
2- You will then receive an email with details to enter the course. Check your spam folder please.
✅Investment & Payment details
✅Participants from Argentina ( $ARS - Official change)
Eventbrite, Mercado Pago or Bank Trasfer: Ask for details by Whatsapp.
✅Participants from other countries by Eventbrite.
✅Join our Whatsapp group, please.
✅Contact us if you have any question!
Organized by Sharing Materials Events 2021
Andrea Pollera +54 9 (291) 4043129