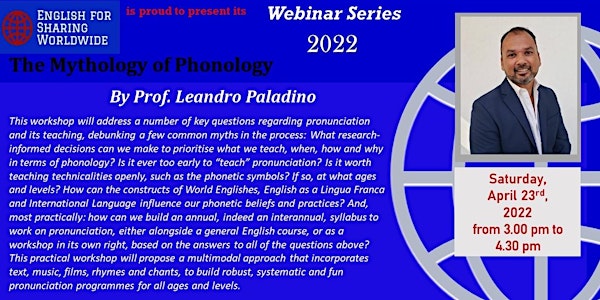 The Mythology of Phonology
This workshop will address a number of key questions regarding pronunciation and its teaching
Política de reembolsos
Comunicate con el organizador para solicitar un reembolso.
El costo del servicio de Eventbrite no es reembolsable.
Acerca de este evento
This workshop will address a number of key questions regarding pronunciation and its teaching, debunking a few common myths in the process: What research-informed decisions can we make to prioritise what we teach, when, how and why in terms of phonology? Is it ever too early to "teach" pronunciation?
Is it worth teaching technicalities openly, such as the phonetic symbols? If so, at what ages and levels? How can the constructs of World Englishes, English as a Lingua Franca and International Language influence our phonetic beliefs and practices? And, most practically: how can we build an annual, indeed an interannual, syllabus to work on pronunciation, either alongside a general English course, or as a workshop in its own right, based on the answers to all of the questions above?
This practical workshop will propose a multimodal approach that incorporates text, music, films, rhymes and chants, to build robust, systematic and fun pronunciation programmes for all ages and levels.
Prof. Leandro Paladino
A teacher of English Language and Literature from the University of La Plata, Leandro Paladino went on to complete a Master's in Bilingualism in Education with the University of Birmingham, UK. He is the academic coordinator of Colegio York, a multilingual school in La Plata, and a deputy editor of the EAL Journal, published in the UK by NALDIC, of which Leandro is a member in the executive committee. A long-time teacher educator and conference speaker, Leandro has published ELT materials and teaches at undergraduate and postgraduate programmes for English teachers and translators.