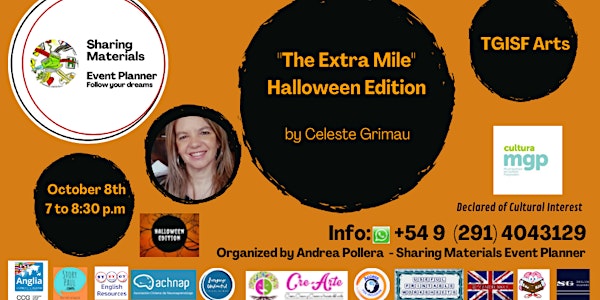 TGISF Arts "The Extra Mile Halloween Edition" by Celeste Grimau
Sharing Materials invites you to participate in TGISF Arts II Jornada de Capacitación Docente de Arte e Inclusión, en Inglés y Español
Política de reembolsos
Comunicate con el organizador para solicitar un reembolso.
El costo del servicio de Eventbrite no es reembolsable.
Acerca de este evento
TGISF Arts "The Extra Mile Halloween Edition" by Celeste Grimau
Organized by Sharing Materials Events 2021
Duration: 1h 30´
✅Target Audience: English Language Professionals & Advanced Language Users
✅Abstract
Lock your doors, dim the lights and enjoy this Halloween workshop for teachers
In this workshop I will present Halloween games and stories that can be adapted to online teaching. During the presentation all participants will be encouraged to play the games proposed, so they can really put themselves in their students' shoes.
People learn better by doing and experimenting. After playing, participants will analyze the use of these games and see how they can transfer them to their teaching practice. My goal is to MOVE TEACHERS BY MAKING THEM MOVE. Teachers will discover that their aim is not only to teach the language, but also to help students enjoy the process, and in this way become the "unforgettable teacher" we would all like to be.
✅About the speaker
Licenciada M. Celeste Grimau is a storyteller and specializes in the use of storytelling and games as tools for the teaching of languages. She graduated from FASTA University with a degree of Licenciada en Inglés and did post-graduate studies at the University of Maryland, USA. She is the director of STEPS – Cross-Cultural Understanding Institute and has been Head of the English Department of Colegio Del Sol. She has contributed articles on education to ARTESOL magazine and the Buenos Aires Herald, and written articles and activities for the "English Teaching in Action" magazine. Celeste is the editor of "Tick Tack Toe" magazine and has published three e-books: "Vitamin Shock Games" (Volumes 1, 2 and 3). She has also given workshops and been a presenter at many international conferences for teachers of English in Argentina and Chile, and has been a member of the ARTESOL Board. Currently studying Drama at the Universidad Nacional de Rio Negro. Celeste is a passionate teacher who considers teaching not only as her job, but also her mission.
✅Our events were honored with the recognition of events of Cultural Interest by the Municipality of General Pueyrredón, Argentina in 2018, 2019 and 2021.
✅Enrolment and payment details:
(Eventbrite, Mercado Pago or BankTransfer)
✅Certificate of Attendance & Digital Material will be issued.
Sponsored by Sponsored by Anglia Examinations - Syzygy Resources - Useful Printable Worksheets- Achnap - Story Paul English- Language Unlimited- Cre-Arte- 21st Century Tools- Edu-kit -Access for Inclusion- St. George English Classes
✅Contact the organizer for further info:
+54 9 (291) 4043129