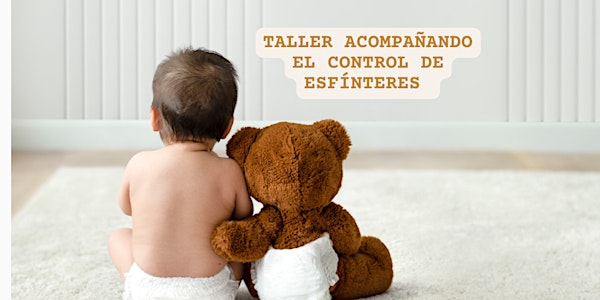 TALLER CONTROL DE ESFÍNTERES- EN VIVO MÁS GRABACIÓN
El taller para acompañar a tu hijo/a a dejar los pañales sin pasarla mal.
Refund Policy
Contact the organizer to request a refund.
Eventbrite's fee is nonrefundable.
About this event
Dirigido a familias, cuidadores, instituciones y profesionales de la salud
Apuntado a quienes estén al cuidado de bebés hasta los 5/6 años.
Temario:
* Cómo acompañar en el proceso, sin presionar, con herramientas concretas y respetuosas , en cada etapa del desarrollo.
* Vamos a hablar sobre las posibles dificultades con las que nos podemos encontrar, cómo acompañar a resolverlas? Cómo sumar sin angustias ni presiones? Algunos ejemplos: Se hace pis encima, no quiere pañal, retiene y se constipa, se hace pis de noche, tiene miedo al inodoro y todas las posibles dificultades.
Cómo acompañar con pautas concretas cuidando el vínculo.
Luego vamos a responder todas las dudas que tengan en el espacio de preguntas.
Dictado por:
M. Soledad Martin, licenciada en psicología clínica de adultos, parejas, familias y orientación a padres. - Especialista en vínculo, lactancia, apego, parentalidad, crianza y primera infancia. - Diploma de Estudios Avanzados en Psicología Clínica y Suficiencia Investigadora. Universidad de Salamanca (España).-Certificada en el Modelo A.M.A.R. Estrategias de Evaluación e Intervención en la infancia. Apego y Complejidad Infantil- Dr. Felipe Lecannelier (Chile).- Miembro de "CONECTA PERINATAL"- ALIANZA HISPANOHABLANTE POR LA SALUD MENTAL PERINATAL Y DE LA FAMILIA (España) - Co-Fundadora de FUNDALAM (Fundación Lactancia y Maternidad) ONG que se dedicó 41 Años a la promoción y apoyo de la Lactancia Materna. - Co-Fundadora de la Primera Escuela Argentina de Puericultura y Crianza. Directora durante 13 años la Tecnicatura Universitaria en Puericultura y Crianza.
Melisa Jurozdicki, médica pediatra (residencia de pediatría en el Hospital de Niños Ricardo Gutierrez- SAP- UBA). Formacíón en lactancia y crianza FUNDALAM-UB.