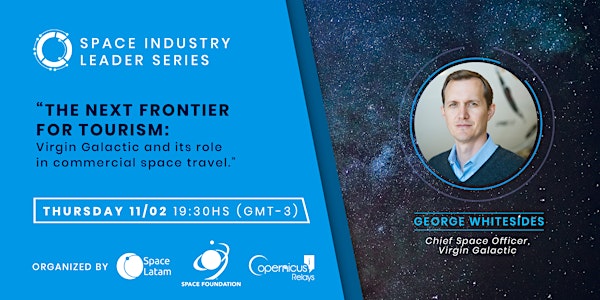 Space Industry Leader Series: George T. Whitesides, Virgin Galactic
What will the future of commercial space travel and tourism look like? Will taking selfies in space be common in the near future?
About this event
Space Industry Leader Series: With this series of talks, we look to showcase what is currently being done in the most promising sectors of the Space Industry, told by its own protagonists.
About the speaker:
George T. Whitesides is the Chief Space Officer of Virgin Galactic, where he lead the development of future technologies, including high-speed point to point travel and orbital travel. He also serves as the Chair of the Company's Space Advisory Board.
George joined Virgin Galactic in 2010 as Chief Executive Officer, During George's 10 years with the Company, he built the Company from 30 people to a workforce of over 900, culminating in two space flights.
Prior to Virgin Galactic, George served as Chief of Staff for NASA. Upon departure from the American space agency, he received the Distinguished Service Medal, the highest award the agency confers.
About Space Latam: We are an organization with the objective to promote space industry development in Latin America, through entrepreneurship, cooperation, and the appliance of benefits of space technology for all society.
Want to help us keep these activities open and free of charge for all? you can buy us a coffee :)