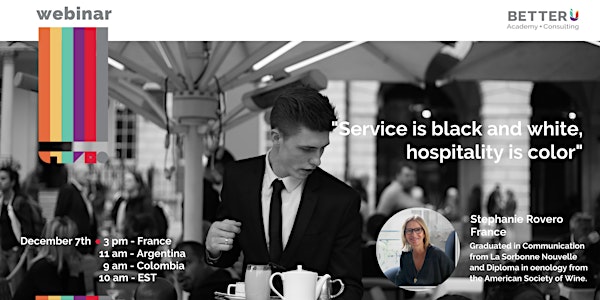 Service is black and white, hospitality is color.
Service is what you do for someone Hospitality is how you make them feel. Would you like to learn about the trends into resto marketplace?
About this event
Why does hospitality even more important nowadays? The best way to talk about hospitality is to compare it to service.
Service is bringing the right plate to the right person on time but hospitality is how you make them feel when you bring them their food.
To be a source of kindness for someone today can not only make them feel good but can ultimately make you feel good.
This is all about hospitality.
=> How do you train your team?
=> how do you communicate Hospitality?
Service is technical, Hospitality comes from your heart.
Your values transcend everything. If you bring your values to the front and make them a core part of who you are, then those values will drive you and help you succeed. Don't be afraid to look at yourself and tell yourself that you can handle anything that comes your way.
In this Free Webinar, Stephanie Rovero will share with you the differences between Service and Hospitality into the gastronomy arena and her success cases based on hospitality trends.
December 7th, 2022 | 3 pm France | 11 am Argentina | 9 am Colombia | 10 am EST
1 hour - English Language