San Telmo Tango Experience by PORTEÑOS&CO. Classes, Show, Milonga & more
Event Information
Refund Policy
Refunds up to 1 day before event
Eventbrite's fee is nonrefundable.
Description
San Telmo Tango Experience by PORTEÑOS&CO. Classes, Show, Milonga & more.
Tango needs to be felt.We invite you to Find the embrace of tango. You are not alone, because as porteños, we proudly knows about encounters.

Be our guest.
---
All activities will be held in San Telmo, this neighborhood was the first suburb of Buenos Aires and it was also the cradle of tango. It still maintains its identity marked by migrations, diversity and popular expressions as our Tango.
7:00 PM 'IT TAKES TWO TO TANGO'
Tango, like friendship, needs both people to get involved. We invite you to be rather than spectator, main protagonist in this experience.

We check in at Fedro Libros, a beautiful bookshop in heart of San Telmo. A few steps away, we arrive at "El Federal" an emblematic "Bar Notable". We have a private salon for our group. As expected from a classic "cafetin de Buenos Aires", good food and conversations will be present. Professional tango dancers who are also experienced teachers will be there waiting for us.
We will listen memorable music, like Juan d'Arienzo, also known as "El Rey del Compás" (King of the Beat), whose music is played often at milongas. Then we will experience first encounter in the tango embrance, its basic movements, its codes. We will learn to switch between leader and follower, as we wish. We will talk about history, traditions and origins of our tango and why not, about disruptions and trends also.
Of course, we will accompany the encounter with a typical and unforgettable porteños´s food called "picada" with beer, wine, water or soda.
9:00 PM IT´S MILONGA TIME!
After a short walk, It is time to experience an authentic milonga porteña (social dance). It takes place in a relaxed neighborhood club, where you can find local and foreign friends. We have a preferential table reserved for us.
You´ll be delighted. You can first attend a group milonga classes, and then appreciate the live Tango orchestra show with dance exhibition. Finally, go milonga! locals and visitors are welcome to dance.

The meeting lasts until 1 am, but everyone can leave at any time.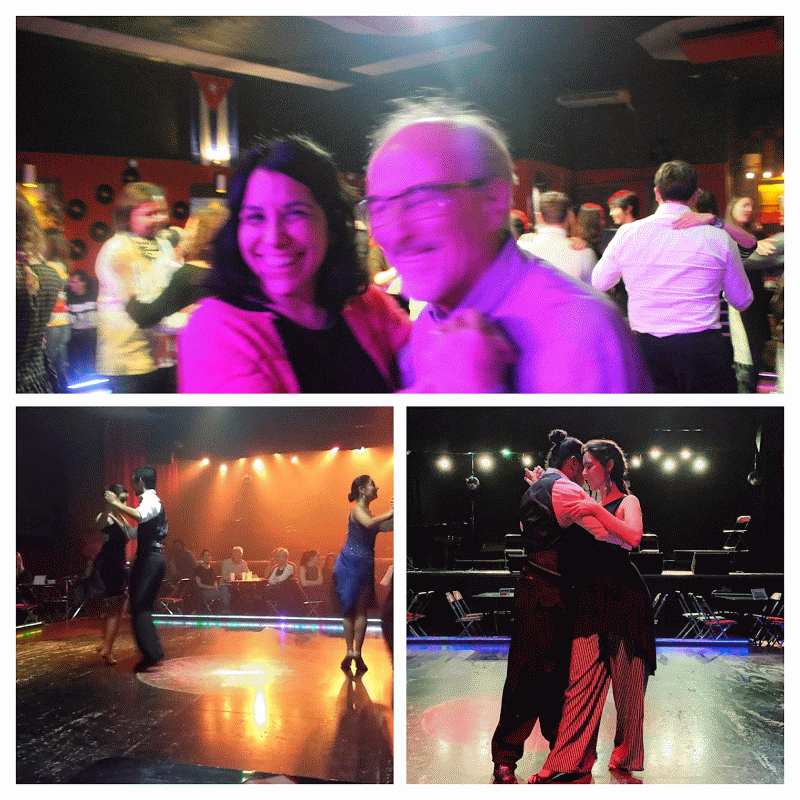 What includes:
Private tango classes (in small group) in a classic Buenos Aires Bar distinguished as "Bar Notable" in heart of San Telmo, including one (1) beverage and a typical porteñas's food called "picada".
Ticket for the Milonga, including tango group classes, live orchestra show, tango exibition and preferential table reservation.


Bilingual companions (English & Spanish local friends) & San Telmo Map.
Tips is not included. Hotel transfers are not included. It is not suspended by rain.

We are at your disposal to guide you in this great city and particularly in the southern area. We give you our map of San Telmo and surroundings with recommendations of circuits and gastronomic pleasures.
---
La Experiencia de Tango en San Telmo por PORTEÑOS&CO. Clases, Show en vivo , Milonga & mas.
Te invitamos a encontrar el abrazo en el tango. No estás solo, porque como porteños, orgullosamente sabemos de encuentros.
Todas las actividades se llevarán a cabo en San Telmo, el primer suburbio de lBuenos Aires y la cuna del tango.
7 PM: "se necesitan dos para el tango"
En el Tango, como en la amistad, se necesita que ambas personas se involucren. Te invitamos a ser el protagonista principal de esta experiencia.
Nos registramos en la clásica librería del barrio "Fedro Libros".A pocos pasos, llegamos a "El Federal", un emblemático "Bar Notable". Tenemos un salón privado para nuestro grupo. Como se espera de un clásico "cafetin de Buenos Aires", la buena comida y las conversaciones estarán presentes. Bailarines de Tango profesionales que también son maestros experimentados estarán allí esperándonos.
Escucharemos música memorable, como Juan d'Arienzo, también conocido como "El Rey del Compás", cuya música se toca a menudo en las milongas. Luego experimentaremos el primer encuentro en el tango, sus movimientos básicos, sus códigos. Aprenderemos a cambiar entre líder y seguidor, como lo deseamos. Hablaremos sobre la historia, las tradiciones y los orígenes de nuestro tango y, por qué no, sobre las disrupciones y las tendencias también.
9 PM ¡es hora de milonguear!
A solo a unas pocas cuadras, la milonga barrial nos deslumbrara por su ambientación y su gente. Nos invita a una práctica grupal muy divertida y luego a disfrutar del show en vivo de una orquesta típica de tango con exhibición de baile. Tenemos una mesa reservada con ubicación preferencial. Finalmente, ¡a bailar! visitantes y locales a compartir el baile. La diversión puede continuar hasta muy tarde, cada uno elige cuando regresar.
Que está incluido en la tarifa:
Clase de Tango privada (grupo pequeño) en bar notable, incluyendo 1 bebida y una clásica "picada" en San Telmo.

Entrada a la Milonga, con acceso a clase grupal, show en vivo y exhibición de tango, en mesa reservada privilegiada.

Profesor y acompañante bilingüe (inglés y español) & mapa de San Telmo.
No incluyen las propinas ni los transportes al hotel. No se suspende por lluvia.

Somos locales, estamos para hacer de tu visita al barrio, una gran experiencia. Te orientamos en lo que necesites. ¡Gracias!
Date and Time
Location
Refund Policy
Refunds up to 1 day before event
Eventbrite's fee is nonrefundable.