Todas las novedades de la región sobre la nueva regulación de juegos en Linea, apuestas deportivas, loterías y su salto a lo digital. Evolve
About this event
SAGSE Talks Puerto Rico & Caribbean En el contexto actual, la "nueva realidad", las empresas, operadores y reguladores que continúan con el desarrollo de sus actividades tienen un nuevo desafío: Adaptase a toda costa.
En nuestro próximo SAGSE Talks nos centraremos en Puerto Rico y el Caribe. Analizaremos la situación actual de esta paradisíaca región que no escapa de la "nueva normalidad". Los proyectos de protocolos de bioseguridad que están implementando los hoteles casino de la mano de las cadenas internacionales más prestigiosas.
Tendremos un análisis en profundidad sobre el impacto que ha tenido en el cliente local y el turismo. Que normas y protocolos deberán enfrentar los clientes cuando regresen a las salas, hoteles casinos y resorts.?
Los hoteles, casinos y demás integrantes de la actividad turística cumplen con las más estrictas reglas de limpieza e higiene, y estos protocolos han sido elevados y se comentaran en nuestra próxima edición.
Toda la actualidad de las conversaciones entre las asociaciones y los entes reguladores en materia de la digitalización de las operaciones, la apertura del juego en línea, la convivencia con el presencial y las estrategias de marketing de la onmicanalidad.
Oradores: Alex W. Pariente, SVP Casino Operations Hard Rock International .
José Maymó Azize, Director Ejecutivo, Comisión de Juegos de Puerto Rico
Wilfredo Ramirez Mejias, Director General Casinos Melia International RD .
David Moniz, Presidente de la Asociacion de Casinos de Republica Dominicana.
Jose Carlos Figueroa, Relaciones Gubernamentales y Desarrollo de Negocios para el Caribe de GLI.
Ismael Vega, Casino General Manager @ Casino Metro, Sheraton Hotel Convention Center. Puerto Rico
Moderador: Pablo Zuppi, Director y Socio Fundador de Yogonet.com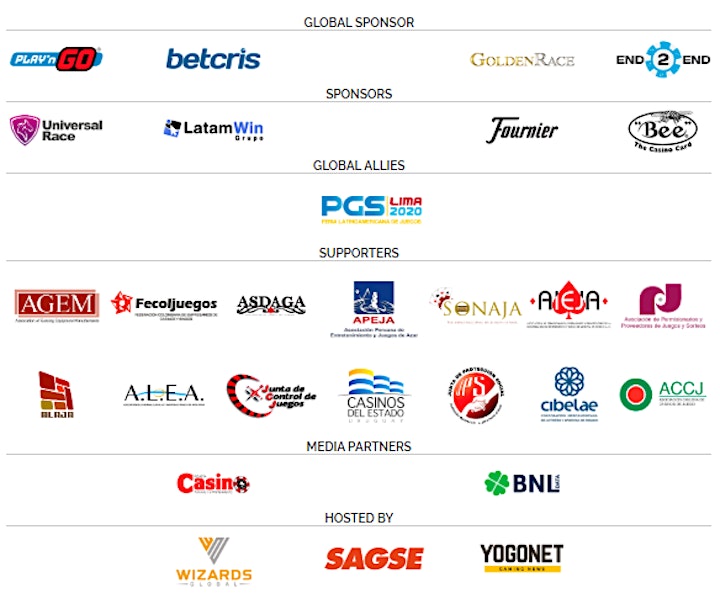 Organizer of SAGSE Talks Puerto Rico & Caribbean
SAGSE  son los primeros y más importantes eventos de networking para Latam diseñados para inspirar a la industria del entretenimiento, las apuestas y los juegos fisicos / internet. SAGSE ha reunido a los mejores expertos de la industria y líderes de opinión para compartir sus puntos de vista y discutir qué herramientas podemos usar y analizar las oportunidades que tenemos por delante.
#wearelatam
SAGSE  are the first and most important networking events for Latam designed to inspire the entertainment, betting and online gaming industry. SAGSE has brought together the best industry experts and opinion leaders to share their views and discuss what tools we can use and analyze the opportunities that lie ahead.
#wearelatam