SAGSE Talks Protocolos, incorporamos un nuevo y necesario segmento, dedicado en brindar ideas, conceptos y soluciones para toda la industria
About this event
PROTOCOLOS DE SEGURIDAD COVID-19
Visión de toda la industria Latinoamericana del Juego de la mano de los referentes del juego:
En este nuevo contexto, la "Nueva Realidad", las empresas que continúan con el desarrollo de sus actividades tienen un nuevo desafío: implementar los protocolos obligatorios para la prevención del contagio de COVID-19 entre sus clientes, empleados, proveedores y comunidad.
SAGSE Talks Protocolos, incorporamos un nuevo y necesario segmento, dedicado en brindar ideas, conceptos y soluciones planteadas de los que más saben de toda América latina. Queremos ayudarnos entre todos. #wearelatam
Oradores:
Gustavo Juan Anselmi Magnone Director en Dirección General de Casinos Uruguay. Uruguay
Manuel San Román, director general de Juegos de Casinos y Máquinas Tragamonedas . Peru
Rodrigo Guíñez Saavedra, gerente general de la Asociación Chilena de Casinos de Juego . Chile
Josep Mª Roig Director General - División Casinos en Grup Peralada. España.
Elizabeth Maya Cano, presidente de la Cornazar. Colombia
Thinus Boers Corporate Slots Manager - Sun Dreams - Latam
Marcelo Creado director de operaciones del grupo Boldt Peralada (Argentina-Uruguay- Chile)
Dario Montero Gerente General Casino Puerto Madero Casino Club. Argentina
Moderador: Pablo Zuppi Director Yogonet
Es un programa que tienen como fin expandir el conocimiento para que cada uno pueda tomar lo que mas se adapta a su mercado y crear sus propios Protocolos Customizados y Control de la efectiva implementación, según la normativa obligatoria vigente de cada país.
Las herramientas que usan las grandes empresas pueden adaptarse a las empresas PyME como a las multinacionales con efectividad y generar buenos resultados y viceversa. Toda información hoy es de valor.
Este nuevo SAGSE Talks consiste en evaluar los riesgos de exposición en función de las características de la actividad, la infraestructura, procesos y necesidades operativos de cada empresa y su característica local.
Los protocolos cubren los distintos ejes que propone la normativa vigente:
ÁREAS DE TRABAJO PARA SAGSE Talks
Personas: • Visitantes/jugadores. • Huéspedes. • Empleados. • Proveedores.
Espacios físicos: • Ingresos y egresos. • Baños. • Salones de juego, convenciones, espectáculos, centros de negocios. • Backstage / áreas de servicios. • Restaurantes y góndolas.
Equipamientos: • Tecnológicos. • Cámaras térmicas. • Termómetros digitales de distancias. • Productos sanitizantes y EPP. • Guantes. • Mascarillas. • Trajes aislantes. • Toallitas sanitizantes.
Comunicación: • Vertical. • Horizontal. • Publicitaria.
Hay tres aspectos que nos acompañaran a lo largo de esta estrategia en común: • Guía de limpieza y desinfección. • Guía de Distanciamiento Social. • Consideraciones de huéspedes, Invitados, Jugadores, proveedores y empleados.
Además y al igual que en su edición anterior, formarán parte de la convocatoria Fernando Polti (Consultant en Global Wizards)y Alan Burak (Vicepresidente de Monografie).
El evento contará con el patrocinio global de Play'N GO y Betcris, Golden Race, los auspicios de Universal Race, Latamwin, End2End, Fournier y Bee Cards, y el apoyo institucional de Fecoljuegos de Colombia, APEJA, SONAJA, la Asociación Latinoamericana de Juegos de Azar (ALAJA), y de ALEA de Argentina.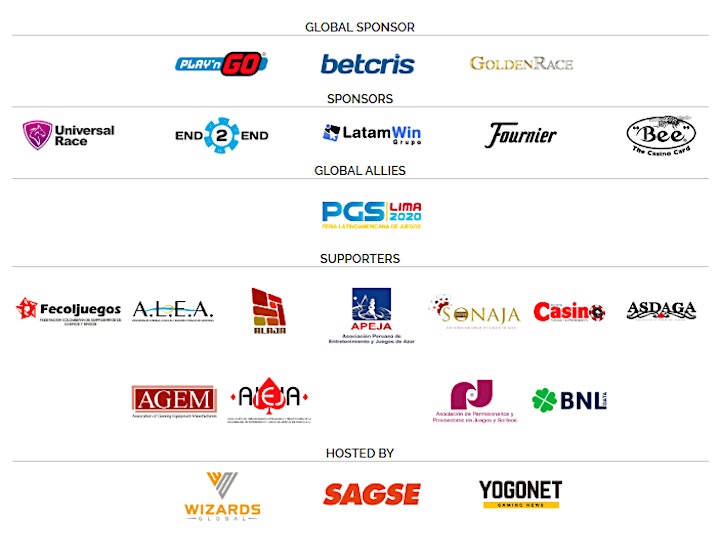 Organizer of SAGSE Talks Protocolos 30 junio
SAGSE  son los primeros y más importantes eventos de networking para Latam diseñados para inspirar a la industria del entretenimiento, las apuestas y los juegos fisicos / internet. SAGSE ha reunido a los mejores expertos de la industria y líderes de opinión para compartir sus puntos de vista y discutir qué herramientas podemos usar y analizar las oportunidades que tenemos por delante.
#wearelatam
SAGSE  are the first and most important networking events for Latam designed to inspire the entertainment, betting and online gaming industry. SAGSE has brought together the best industry experts and opinion leaders to share their views and discuss what tools we can use and analyze the opportunities that lie ahead.
#wearelatam