Comenzó la licitación del juego online en Costa Rica . La (JPS) lanzaron un programa piloto para regularizar el Juego Online sus modalides
About this event
SAGSE Apertura de Juego Online Costa Rica 2021
Potenciando el Juego Online. Nuevos Mercados!
La Junta de Protección Social (JPS) de Costa Rica lanzó un plan piloto por un año para dinamizar los juegos virtuales, en las modalidades de Lotería Electrónica, Juegos Lotéricos y Apuestas y Eventos. Las empresas nacionales o extranjeras pueden inscribirse en la Solicitud de Participación hasta el 5 de abril y luego se eligirán dos por cada rubro. Aseguran que no se pondrá en riesgo el patrimonio de la institución, ya que se le dejarán porcentajes fijos de las ganancias.
En este conversatorio abordaremos el temario en profundidad con el objetivo de ampliar información e evacuar dudas.
La Junta ha demostrado a lo largo de sus casi 176 años de existencia su capacidad de evolución y adaptación a los nuevos tiempos. Creemos que en el caso de la era digital la institución camina sobre la senda de la transformación tecnológica que permite fortalecer la protección, declaró la presidenta de la JPS, Esmeralda Britton.
Oradores:
Evelyn Blanco - Gerente de Producción, Comercialización y Operaciones
Marcela Sanchez - Asesora Jurídica
Marilyn Solano - Gerente General
Urania Chaves - Directora de Junta Directiva de la JPS
Esmeralda Britton -Presidente de la Junta de Protección Social (JPS), Lotería Nacional y la Lotería Popular Chances de Costa Rica. Tesorera de Cibelae.
Moderadores : Alan Burak y Karen Sierra Directora Latam GLI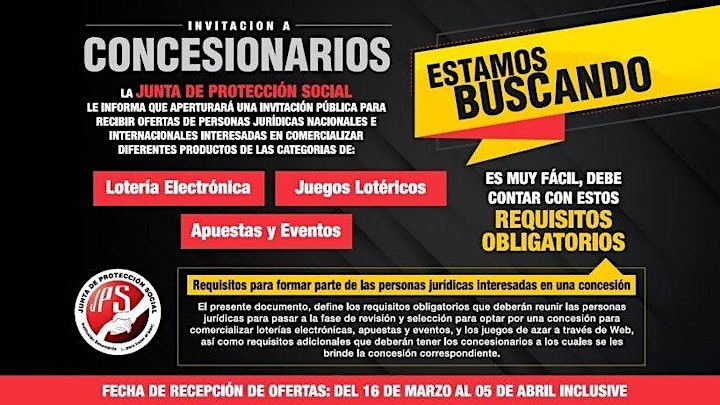 Organizer of SAGSE Talks Apertura de Juego Online Costa Rica 2021
SAGSE  son los primeros y más importantes eventos de networking para Latam diseñados para inspirar a la industria del entretenimiento, las apuestas y los juegos fisicos / internet. SAGSE ha reunido a los mejores expertos de la industria y líderes de opinión para compartir sus puntos de vista y discutir qué herramientas podemos usar y analizar las oportunidades que tenemos por delante.
#wearelatam
SAGSE  are the first and most important networking events for Latam designed to inspire the entertainment, betting and online gaming industry. SAGSE has brought together the best industry experts and opinion leaders to share their views and discuss what tools we can use and analyze the opportunities that lie ahead.
#wearelatam