Novedades sobre esta región: La regulación de juegos en linea, apuestas deportivas y su salto a lo digital. La nueva realidad, Covid 19
About this event
"Actualidad del mercado. Foco España"
Jueves 23. 5:00 PM Hora Madrid - 12:00 PM Hora Argentina.- 10:00AM Hora Panama.
SAGSE Talks, en colaboración con EXPOJOC, celebrarán su primera edición virtual para el mercado español el próximo 23 de julio. "Actualidad del mercado. Foco España" será el título de un encuentro telemático abierto al público que abordará cuestiones como es el nuevo escenario COVID 19, estrategias para atraer a jugadores en tiempos de pandemia, digitalización del juego y nuevos sistemas de pago. Marco Legal, regulatorio, etc.
El SAGSE Talks España contará con destacados representantes del sector empresarial nacional así como profesionales de la industria en Latam para enriquecer la panel.
Oradores:
Jacobo Vicente Rodriguez, Director de Operaciones de Grupo VID, España.
Alberto Ruiz-Ocaña , CEO en Opera Gambling, España.
Patricia Lalanda, Socia LOYRA ABOGADOS, Internacional.
Marcos Marugán, Director at World Bingo Tech, R Franco. España.
Dario Montero, Gerente General Casino Buenos Aires. Argentina.
Victor Guirao Nieto , Technical Manager, GLI, España.
David Jiménez, Senior Manager of Engineering, GLI. España.
Luis de Prat Principal Consultant at Net Win Solutions, España.
Co Organizar- Moderador: Ignacio Ferrer Expojoc & Sector de Juego. Europa.
Esta webinar es la primera de otras que se llevarán a cabo durante los próximos meses enfocadas al mercado español y europeo.
"Dada la dificultad de celebrar actos presenciales, los SAGSE Talks son encuentros ideales para compartir ideas, plantear respuestas e intercambiar información entre los distintos miembros de la industria del juego"
"SAGSE Talks es una buena manera de mantener vivas las marcas SAGSE y EXPOJOC brindando un servicio muy útil en tiempos donde las reuniones presenciales y los desplazamientos son más complicados. Sin duda aquel que se conecte a la primera SAGSE Talks España quedará muy satisfecho"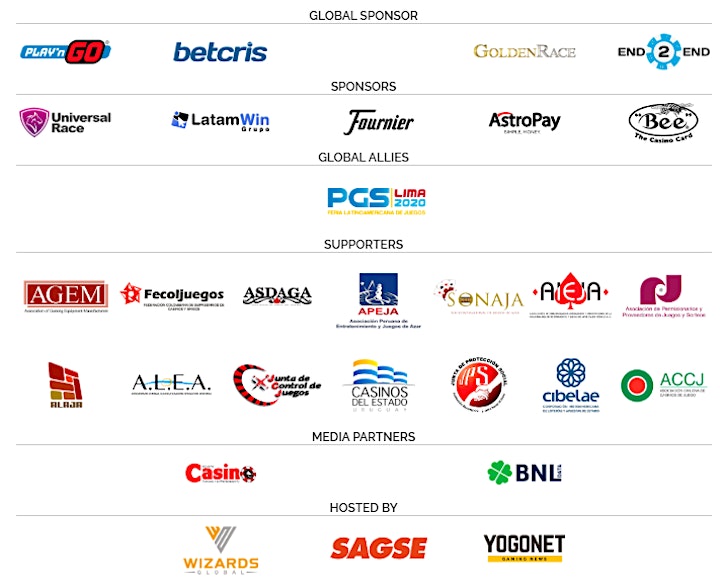 Organizer of SAGSE Talk Europa (España) by Expojoc
SAGSE  son los primeros y más importantes eventos de networking para Latam diseñados para inspirar a la industria del entretenimiento, las apuestas y los juegos fisicos / internet. SAGSE ha reunido a los mejores expertos de la industria y líderes de opinión para compartir sus puntos de vista y discutir qué herramientas podemos usar y analizar las oportunidades que tenemos por delante.
#wearelatam
SAGSE  are the first and most important networking events for Latam designed to inspire the entertainment, betting and online gaming industry. SAGSE has brought together the best industry experts and opinion leaders to share their views and discuss what tools we can use and analyze the opportunities that lie ahead.
#wearelatam