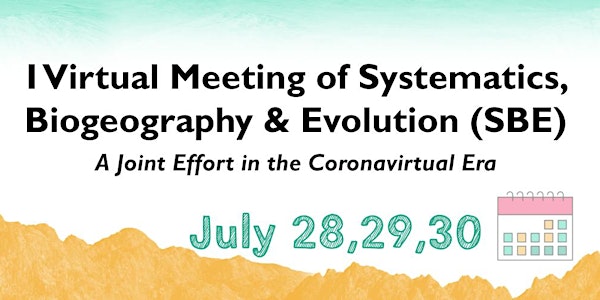 Registration is now only open to people who will present a poster. Sorry!
We have reached the the limit on the zoom account
About this event
Registration to the SBE meeting was a success!
We would like to thank all of you for your enthusiasm and for being part of the I Meeting of Systematics, Biogeography and Evolution (SBE).
Unfortunately, due to the high number of attendants and the limit on the zoom account, we have to close the Registration for attendees and now is only open for people who will present a poster.
We are sorry to close registrations because we know we could have reached many more of you. At the same time, we are very happy about the success of the Meeting announcement and very excited to see you at the Meeting!
If you are not registered, we will do our best to make most talks available on streaming or video platforms. We will be posting the updates in our social networks, so please keep in touch!
For those who are registered: Don´t forget to submit your poster before July 13!