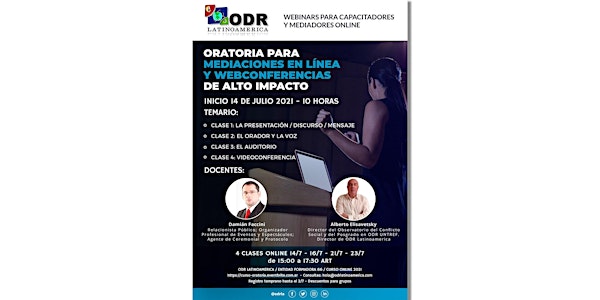 Oratoria para mediaciones en línea y webconferencias de alto impacto
Curso 100% online
Refund Policy
Contact the organizer to request a refund.
Eventbrite's fee is nonrefundable.
About this event
Oratoria para mediaciones en línea y webconferencias de alto impacto
4 clases online de 15.00 a 17.30 (Hora de Buenos Aires, Argentina) desde el 14 de julio
Clase 1: Miércoles 14/7 - 15:00 a 17:30 hrs
Clase 2: Viernes 16/7 - 15:00 a 17:30 hrs
Clase 3: Miércoles 21/7 - 15:00 a 17:30 hrs
*CAMBIO DE HORARIO* Clase 4: Martes 27/7 - 15:00 a 17:30 hrs
Certifica 10 horas:
ODR Latinoamérica, Entidad Formadora N°66 especialistas en Online Dispute Resolution
#odrlatinoamerica
Oratoria para la vida profesional online
curso de 10 hs interactivo - 4 Clases de 2.5 hs cada una
fundamentalmente prácticas.
TEMARIO:
CLASE 1: LA PRESENTACIÓN / DISCURSO / MENSAJE
La estructura de la presentación: introducción, desarrollo y cierre
Investigación y preparación del tema de la presentación.
Objetivos
Propuesta de valor
CLASE 2: EL ORADOR Y LA VOZ
Características que hacen a un orador persuasivo y elocuente, eficaz y eficiente.
Virtudes y defectos
¿Cómo superar el miedo, la vergüenza, la timidez, la tartamudez? ¿Cómo dominar los nervios?
La imagen personal del orador frente a la pantalla. ¿A qué prestar atención? ¿Qué detalles cuidar?
La voz del orador.
Dicción. Método de articulación y vocalización para evitar confusión e inseguridad.
Muletillas.
Velocidad
Tono y modulación
CLASE 3: EL AUDITORIO
Cómo captar y mantener la atención del público
Cómo dirigirse al público
Cómo convencer a la audiencia.
Trucos y técnicas de la oratoria
Recursos para convencer a la audiencia
Manejo del humor - Cómo inspirar confianza al auditorio
CLASE 4: VIDEOCONFERENCIA
¿Cómo aprovechar al máximo esta herramienta?
¿Cómo hacer sentir al auditorio cual si estuvieramos frente a ellos?
¿Qué evitar? Errores comunes y frecuentes
¿Cómo manejar las preguntas y las respuestas?
¿Cómo generar interacción y participación? ¿Cómo evitar el aburrimiento y el tedio en el auditorio y el cansancio en el orador?
¿Cómo manejar los tiempos?
Estructura física: espacio del orador, fondo verde, ruidos. ¿Cómo crear un ambiente propicio y adecuado para la transmisión que simule un aula o sala de reunión?
Damián Faccini
Relacionista Público; Organizador Profesional de Eventos y Espectáculos; Agente de Ceremonial y Protocolo y Administrador Gastronómico-Hotelero y Turístico.Desde hace 23 años se dedica a dichas tareas junto con la docencia y capacitación para importantes institutos y entidades a nivel nacional e internacional. También desarrolla actividades de asesoría en Oratoria para funcionarios, diplomáticos y particulares.
Ha sido convocado por importantes medios de comunicación para la cobertura de eventos y columnas especializadas. Es autor de los libros:
- "NO ES UN JUEGO, MANUAL PARA LA ORGANIZACIÓN Y COORDINACION INTEGRAL DE EVENTOS" Editorial APLICACIÓN
- "EVENTOS SUSTENTABLES, COMO REPLANTEAR EL NEGOCIO" Editorial LADEVI
- "ORATORIA SIGLO XXI: Técnicas para vencer el miedo a hablar en público y ser un orador exitoso" Editorial UGERMAN
Director de USBCAPACITACION Y EVENTOS y creador del "TALLER DE CEREMONIAL DEL TE INGLES", único en su tipo en toda América.
Alberto Elisavetsky
Fundador y Presidente de ODR Latinoamerica www.odrlatinoamerica.com. Director del Observatorio del Conflicto Social y del Posgrado en ODR de la Universidad Nacional de Tres de Febrero. Miembro del Directorio de ICODR - International Council for Online Dispute Resolution. Fellow of the National Center for Technology and dispute Resolution, Massachusetts. Editor Online Dispute Resolution Journal Latinoamerica. Embajador de Paz Fundación Mil Milenios de Paz - UNESCO
Cupos reducidos
*Si desea abonar mediante Transferencia o Deposito bancario por favor escribir a hola@odrlatinoamerica.com
Contacto:
Mail - hola@odrlatinoamerica.com
Whatsapp - +54 9 11 3394-0940