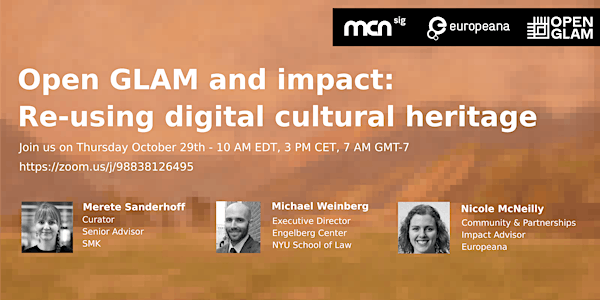 Open GLAM and impact: Re-using digital cultural heritage
How can Open GLAM deliver on the promise of impact through re-use? Join Merete Sanderhoff, Mike Weinberg & Nicole McNeilly in this session!
About this event
Join through Zoom on October 29, 10 AM EDT, 3 PM CET:
Please register if you want to receive the transcript afterwards!
One of the big promises of open access to cultural heritage is the possibility for the general public to re-use content in new, innovative ways. From the GIF It UP! contest to cultural hack-a-thons to artificial intelligence, there are several projects that are trying to bring to the forefront the tremendous amount of creativity that can be unleashed if digital reproductions of cultural heritage allow for broad re-use.
But, aside from the numbers of re-use and anecdotal evidence, what's the impact value of re-use of cultural heritage? How are we measuring it? How can we build arguments that relate numbers to evidence? And how can those ways of measurement be improved?
In this webinar, the panel will talk about different ways in which re-use is taking place, how projects and institutions are approaching measuring their impact, and how some of these projects contribute to making the case for open access to cultural heritage.
Merete Sanderhoff is a Curator & Senior Advisor at the SMK in Denmark.
Michael Weinberg is Executive Director of the Engelberg Center on Innovation Law and Policy at the NYU School of Law.
Nicole McNeilly is the Impact Advisor at the Community & Partner Engagement team, Europeana Foundation.