About this Event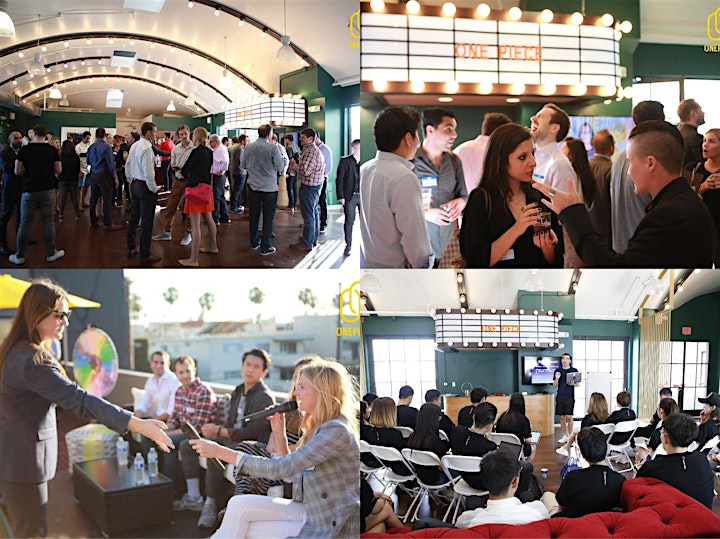 Serving an international customer is no longer as difficult as it used to be. But, filling the occasional overseas order isn't the same as having a truly international brand presence. Expanding to an oversea market requires an understanding of the local market and visionary brand strategies.
OnePiece Connect LA - Elevate Your Brand Globally is designed to facilitate in-depth discussions on strategies to help brands succeed in the international market, and offer focused networking opportunities to international brands, founders, marketing professionals, agencies, influencers, and investors.
-----------------------------------------
Prize
At the event, we are going to give away the special prize to two lucky winners - OnePiece Work Lite Membership for one month.
As a Lite member at OnePiece Work, you can enjoy flexible seating at any of our selected locations with full access to our exclusive networking events, state-of-the-art office amenities, and a diverse global network of doers and disrupters.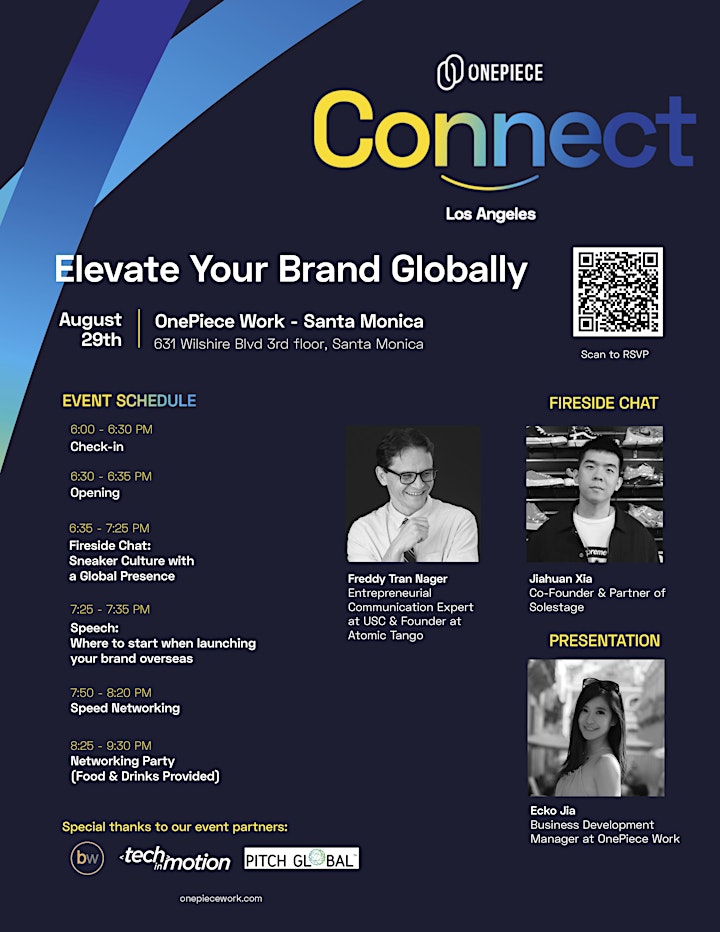 Speakers
Freddy Tran Nager | USC Professor & Founder of Atomic Tango
Freddy Tran Nager is the Entrepreneurial Communication Expert in Residence at the University of Southern California, where he has taught graduate courses in marketing communication since 2012. He is also the Founder & Creative Strategist of the marketing consultancy Atomic Tango, which has served startups, Fortune 500 companies, and influencers since 2007. Prior to launching his own business, Freddy held lead creative roles at major ad agency Saatchi & Saatchi and entertainment giant Universal Music Group/MCA Records, where he directed several award-winning websites. Freddy received his undergraduate degree in East Asian Studies & Sociology from Harvard, and his MBA in Marketing & Entrepreneurship from USC. As a teenager, he lived in Taiwan, where he attended the Taipei American School and struggled to speak Chinese. Freddy currently lives in Los Angeles with his wife (the founder of MarcyVeryMuch.com) and too many cats.
Jiahuan Xia | Co-founder & Partner of Solestage
Jiahuan Xia is the co-founder of Solestage, a leading limited-edition sneaker and streetwear marketplace. With over 10 years of experience in the sneaker and streetwear industry, Jiahuan is known as "The King of Sneakers" in both the US and China and is frequently interviewed by mainstream media including Vice and Xinhua Net. He's well-connected with top-tier celebrities including Kevin Hart, Bronny James, Usher, DJ Khaled and Higher Brothers. Prior to Solestage, Jiahuan was the Director at Vanke, a large Chinese real estate developer, and was in charge of the company's new business development in the North America market. Jiahuan holds dual degree in Business Studies and Economics from Brandeis University.
Ecko Jia | Business Development Manager at OnePiece Work
Ecko Jia is the Business Development Manager at OnePiece Work. She has extensive experience in business development and resources in venture capital industry. Prior to OnePiece Work, she was an investment manager at Cybernaut Zfounder Ventures and was active in the fields of technology, consumer and lifestyle. Before that, she was a manager for major accounts at FleishmanHillard responsible for new business development, client negotiation, project management and execution. She planned and executed over ten projects for major clients including Jaeger-LeCoultre and P&G. Ecko holds a master's degree in Communication Management from the University of Southern California.
-----------------------------------------
Tentative Agenda
6:00 PM Check-in
6:30 PM Opening
6:35 PM Fireside Chat - Sneaker Culture with a Global Presence
[Freddy Tran Nager, USC Professor & Founder of Atomic Tango]
[Jiahuan Xia, Co-founder & Partner of Solestage]
7:25 PM Presentation - Where to start when launching overseas
[Ecko Jia, Business Development Manager at OnePiece Work]
7:50 PM Speed Networking
8:25 PM Networking Party
Food & drinks will be provided
-----------------------------------------
Event Partners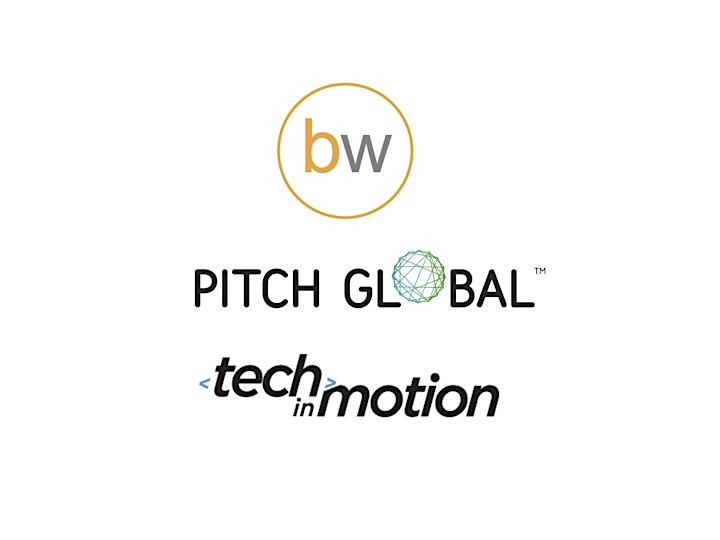 -----------------------------------------
We would love to have you in our OnePiece Connect community! If you're interested in sponsoring, co-hosting or speaking at an OnePiece Connect event, please contact us at opbd@1piecework.com.
Become OnePiece Connect Event Speaker
Become OnePiece Connect Service Provider
Sign Up OnePiece Connect Mail List