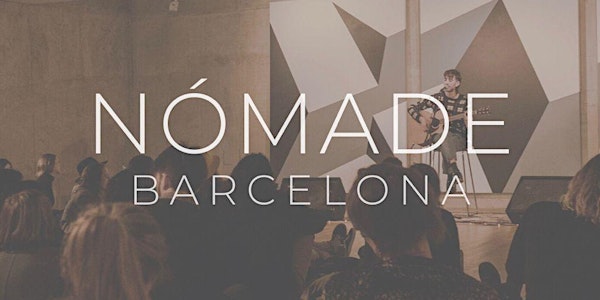 Nómade Barcelona 1/12 Sant Antoni
Conciertos Íntimos de Artistas Únicos
Refund Policy
Contact the organizer to request a refund.
Eventbrite's fee is nonrefundable.
About this event
Nómade desembarca en la bella ciudad de Barcelona, dónde nos vamos a encontrar para disfrutar de la música en estado natural. Ésta vez nuestro refugio será un Co-Work ubicado en Sant Antoni, que nos abre sus puertas para que podamos disfrutar de una noche especial junto a dos increíbles artistas:
- Diego Lorenzini
- Peter Slow
Compra de entradas únicamente online, no se venden en la puerta. La dirección será dada únicamente a quienes adquieran entrada.
Pueden ver videos de ediciones anteriores a través de nuestro canal de YOUTUBE (No olviden Suscribirse).
https://www.youtube.com/channel/UCCRY3L2NWpKXrVz9aC9OddA
AVISOS
- Se requiere mascarilla para ingresar.
- Capacidad Limitada.
- No ingresar con bebidas ni alimentos. Hay una barra disponible.
- Pedimos que sean puntuales con el horario pautado , ya que una vez iniciado el concierto no se podrá ingresar.
- Queremos que el evento sea apto para todo publico y cuidar a quien tenemos al lado por lo tanto pedimos que por favor eviten fumar marihuana en este evento. Gracias.
Si tienes síntomas de COVID o has estado en contacto cercano con alguien que haya dado positivo de COVID, puedes escribirnos a data@nomadesomos.com para que podamos reprogramar las entradas para un evento próximo.
Preguntas frecuentes:
¿Cómo puedo hacer para tocar en NOMADE?
La mejor forma es viniendo a una fecha y charlando con nosotros. La segunda mejor forma es mandarnos un mail a barcelona@nomadesomos.com con el asunto "ARTISTA", que contenga un link a tu música (Youtube, Bandcamp, spotify, soundcloud, etc) y un link a un video en vivo y te responderemos en cuanto podamos.
Quiero proponer mi casa para un show de NÓMADE, ¿Cómo hago?
Para ser anfitrión de NOMADE envíanos un mail a barcelona@nomadesomos.com con el asunto "CASA NOMADE" con una breve descripción de tu casa y del espacio que querrías que utilicemos. Nos encantaría contar contigo como Anfitrión/a de un futuro NÓMADE! 
¿Cómo puedo comunicarme con el organizador si tengo otras preguntas?
Por mail a barcelona@nomadesomos.com
NÓMADE no se responsabiliza por daños o perdidas que ocurran durante el evento.