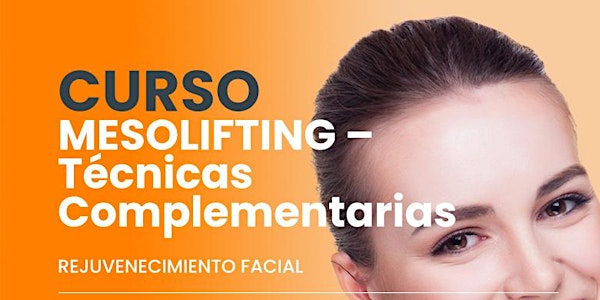 MESOLIFTING – TECNICAS COMPLEMENTARIAS REJUVENECIMIENTO FACIAL
Evento online, incluye acceso al evento en vivo, material, acceso a la grabación y certificado personalizado con código QR
Refund Policy
Contact the organizer to request a refund.
Eventbrite's fee is nonrefundable.
About this event
MESOLIFTING – TECNICAS COMPLEMENTARIAS REJUVENECIMIENTO FACIAL
👉 Aprende todo sobre este tratamiento, protocolos de trabajo y conceptos prácticos.
✅ El objetivo de esta capacitación es centrar nuestra atención en un adecuado diagnóstico nivel facial y en el desarrollo de un tratamiento integral para corregir aquellos signos de envejecimiento, respondiendo a la demanda de uno de los tratamientos más solicitados, a través de diferentes propuestas combinadas, para obtener excelentes resultados.
✅En este curso aprenderás:
Protocolo de trabajo combinado con Peptonas
Conceptos prácticos
Conceptos teóricos
Sugerencias de técnicas complementarias.
Consideraciones prácticas para cumplir protocolos sanitarios.
✅Trabajo con los siguientes equipos:
Puntas de diamante
Abrass
Novatherm
Porex VR
✅Este curso está destinado a profesionales y estudiantes de las áreas de:
🕑Curso Online en vivo Lunes 09 de Agosto a las 14 Hs. ARGENTINA
Chile 13.00 horas
México 12.00 horas
Paraguay 13.00 horas
Bolivia 13.00 horas
Disertante:
Viviana Bonelli
Licenciada en Kinesiología y Fisiatría
Certificada por la Asociación Argentina de Ondas de Choque, la Asociación Argentina de Kinesiología y el Ministerio de Salud Docente a cargo de la Certificación en Celulitis en Argentina a partir del 2018
Hasta el 30 de Julio precio promocional a sólo $2000.- (Luego $2800)
Inscripción residentes en argentina
Hasta el 30 de Julio precio promocional a sólo u$s18.- (Luego u$s25)
🎓Se entrega certificado digital
📩Una vez realizada la inscripción recibirás en tu correo el link y clave de acceso.
▶El curso estará disponible on line, por una semana más luego de la cursada. Recibirás un nuevo link con acceso a la grabación.