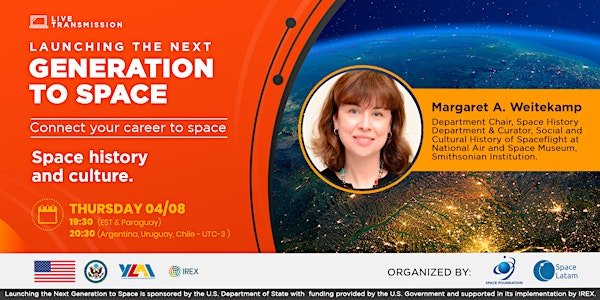 Launching the Next Generation to Space - Space History and Culture
Find out how various careers are related to space, and how you can take the first steps to enter this industry!
About this event
English Description | Descripción en Español
Launching the Next Generation to Space (LNGS), link various careers to the space sector so that students and professionals interested in developing a career in the space industry can know firsthand what it is like to work in that sector and what are the first steps they should give to enter it.
We will send the link to the transmission in the confirmation email.
In this talk will discuss space history and culture with Margaret A. Weitekamp, Department Chair, Space History Department & Curator, Social and Cultural History of Spaceflight at National Air and Space Museum, Smithsonian Institution.
In addition to serving as the department chair, Dr. Margaret A. Weitekamp curates the Museum's social and cultural history of spaceflight collection, more than 5,000 artifacts that include space memorabilia and space science fiction objects. These everyday mementos of the space age—which include toys and games, medals and awards, buttons and pins, as well as comics and trading cards—complete the story about spaceflight told by the Museum's collection of space hardware and technologies.
Weitekamp earned a BA from the University of Pittsburgh and an MA and PhD in history from Cornell University. During her graduate work, she was a Mellon fellow in the humanities and spent a year in residence at the NASA Headquarters History Office in Washington, D.C. as the American Historical Association / NASA Aerospace History Fellow. Before joining the Smithsonian, Weitekamp taught in the Women's Studies Program at Hobart and William Smith Colleges in Geneva, New York.
Event Day: 04/08 19:30 (EST & Paraguay) 20:30 (Argentina, Uruguay, Chile - UTC-3 )
Llevando a la próxima generación al espacio, trata de vincular diversas carreras al sector espacial para que estudiantes y profesionales interesados en desarrollar una carrera en la industria espacial, puedan saber de primera mano cómo es trabajar en ese sector y cuáles son los primeros pasos que deberían dar para ingresar a él.
En esta ocasión hablaremos de la historia y la cultura del espacio con Margaret A. Weitekamp, ​​Directora del Departamento de Historia del Espacio y Curadora de Historia Social y Cultural de los Vuelos Espaciales en el Museo Nacional del Aire y el Espacio, del Museo Smithsonian.
Enviaremos el link de la charla en el email de confirmación del registro.
Día y hora: 04/08 19:30 (EST & Paraguay) 20:30 (Argentina, Uruguay, Chile - UTC-3 )