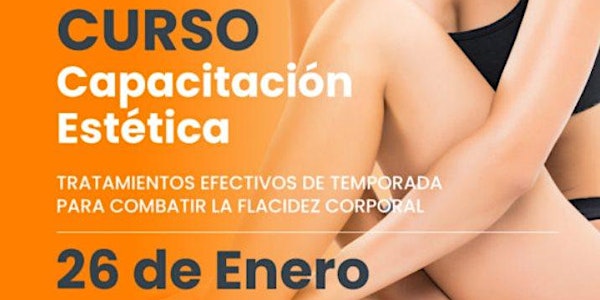 Jornada de capacitación Estética
Evento online, incluye acceso al evento en vivo, material, acceso a la grabación y certificado personalizado con código QR
Refund Policy
Contact the organizer to request a refund.
Eventbrite's fee is nonrefundable.
About this event
Jornada de capacitación Estética - Edición ON LINE
👉 TRATAMIENTOS EFECTIVOS DE TEMPORADA, PARA COMBATIR LA FLACIDEZ CORPORAL Capacitación especializada en tratamientos corporales.
Uso de productos cosmecéuticos de vanguardia. Máscaras corporales.
Aparatología combinada para potenciar los resultados con los equipos más utilizados: ultrasonido, radiofrecuencia y electroestimulación.
Técnicas manuales.
✅En este curso aprenderás:
Uso de aparatología
Aplicación de: ultrasonido, radiofrecuencia y electroestimulación.
Aplicación combinada: productos cosmecéuticos
Técnicas manuales.
Tratamiento para combatir las flacidez corporal.
Protocolos de trabajo.
✅Trabajo con los siguientes equipos:
RF Novatherm
Equipo de hipertermia por radiofrecuencia.
Sonotherp 990 1 MHZ
Equipo generador de ondas ultrasónicas.
Termocel Stim
Equipo que combina termoterapia y electroestimulación en un mismo tratamiento
✅Dirigido a
Este curso integral va dirigido a profesionales y / o estudiantes de salud estética y afines, con el objetivo de aportar nuevas técnicas, partiendo del uso de la aparatología más utilizada en combinación con técnicas manuales y productos cosmecéuticos de vanguardia
🕑Curso Online en vivo 26 de Enero a las 13 Hs. ARGENTINA
Chile 13 horas
México 11 horas
Paraguay 12 horas
Bolivia 12 horas
Disertante:
Paola Yánez Chandía. Lic. Kinesiología y Fisiatría
Profesora Titular de Kinesiología Estética en la carrera de la Universidad Favaloro
Diplomada Universitaria en Kine-Fisiatría Estética - Universidad John F. Kennedy
Titular de la cátedra de Kinefisiatría Cosmiátrica de la UAI
Inscripción residentes en argentina ($2500)
Inscripción residentes en el exterior (U$S 25)
🎓Se entrega certificado digital
📩Una vez realizada la inscripción recibirás en tu correo el link y clave de acceso. El curso se realiza por una plataforma destinada a capacitación on line.
▶La grabación del curso estará disponible on line por una semana más luego de la cursada. Recibirás un nuevo link con acceso a la grabación dentro de las 72 horas hábiles post curso