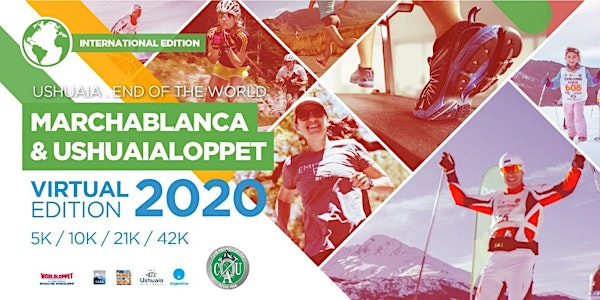 International - Marchablanca - Ushuaia Loppet 2020 - Virtual Race
Marchablanca - Ushuaia Loppet Virtual 2020 - xc ski - roller ski - running 42 - 21 - 10 - 5 km. The same spirit, but the challenge of you
When and where
Location
Club Andino Ushuaia Pista Jerman Ushuaia, Tierra del Fuego Argentina
About this event
A unique and participatory event!
You can participate in cross-country skiing - roller skiing - runing. You choose day, time
Your contribution in the registration and participation from anywhere in the world is very important and of great help to maintain the tradition of the Marchablanca in Ushuaia - Tierra del Fuego - Patagonia - Argentina
Entries: AR$ 750 (U$S 10)
The Covid - 19 has forced to re-design the events around the world and since the End of the World the Marchablanca - Ushuaia Loppet 2020 is presented in virtual format.
This season we will not be able to stamp your Worldloppet passport, but we want you to be part of a unique event in August and you can do it wherever you are and that you know that in 2021 we are waiting for you in Ushuaia, Tierra del Fuego, a unique place.