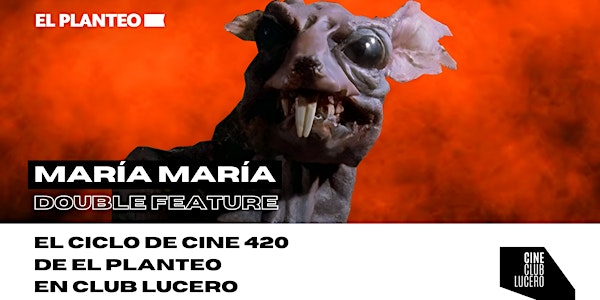 HALLOWEED: SE VIENE LA QUINTA EDICIÓN DE MARÍA MARÍA
HALLOWEED: SE VIENE LA QUINTA EDICIÓN DE MARÍA MARÍA
When and where
Location
Club Lucero 6048 Nicaragua Palermo, CABA C1414 Argentina
Refund Policy
Contact the organizer to request a refund.
Eventbrite's fee is nonrefundable.
About this event
El martes 18 de octubre, desde las 19 hs, El Planteo y Cine Club Lucero te invitan a una función muy especial. En el mes de Halloween, te proponemos Halloweed, una función doble, terrorífica y, fundamentalmente, psicotrópica.
Abrimos la velada con el primer episodio de Don't Hug Me I'm Scared, una serie británica de comedia de terror surrealista creada por Becky Sloan, Joe Pelling y Baker Terry. Marionetas antropomórficas similares a las que aparecen en Plaza Sésamo, pero con una serie de componentes sumamente inquietantes.
Luego, será el turno de Cabin In The Woods, slasher escrito y dirigido por Drew Goddard. Con la producción de Joss Whedon (el creador de Buffy, la Cazavampiros), este film cuenta la historia de un grupo de amigos que deciden pasar unos días en una tenebrosa cabaña. Hasta ahí, una historia común y corriente de horror. Sin embargo, nada de lo que te imaginas sucederá. Sorpresas, vísceras, las criaturas más tenebrosas, porros y mucho, pero muchísimo más.
Estas producciones serán programadas por Rodrigo Gil Buetto, Fermín Goncalves, y Santiago Hardie, más conocidos como Scream Queens, convoy de expertos en pesadillas y responsables de un mítico podcast dedicado al horror. Películas, series, fenómenos sobrenaturales y mucho más.
Y para continuar con este terrorífico double feature, daremos paso a Runaway Brain de Walt Disney ¿¡Cómo!? ¿Disney y cine de terror? ¡Así es! Este cortometraje explora el lado oscuro de Mickey Mouse con una trama que mezcla a King Kong con El Exorcista. ¿No la podés creer? Nosotros tampoco, por eso te invitamos a compartir esta tremenda experiencia.
Entretanto, la pesadillesca ruta de esta histórica doble función cierra con Braindead. Un film que mezcla terror y comedia con gore. Un clásico pop estrenado en 1992 y dirigido por Peter Jackson (sí, el mismísimo responsable de la saga cinematográfica de El Señor de los Anillos). La mordida de un extraño mono desencadena una epidemia zombie en la Australia de mediados de la década del 50. Un festival de gore y extremidades dispersas por toda la pantalla.
El honorable programador de este sangriento menú será Ezequiel Schapira, dibujante de cómics, artista y uno de los streamers más prometedores de Argentina. Sus ascendentes números, sus transmisiones en Twitch cada vez más convocantes lo ponen en el centro de la escena como uno de los creadores de contenido que no podés dejar de seguir.
Esta quinta edición de María María tendrá como primer maestro de ceremonias a Ulises Rodríguez, periodista, locutor y docente. Publicó en Anfibia, Orsai, Cosecha Roja, Infobae y medios extranjeros como La Vanguardia de España y la revista Lento de Uruguay. Escribe sobre cine en la revista Directores de DAC y en La Gaceta de Tucumán. Además, es productor del ciclo documental Elemento Vital (el único programa de Latinoamérica sobre el agua).
Y para cerrar, Franca Quarneti será la MC de la siguiente proyección. Es periodista y escribió en la revista Replay y en Diario Publicable. Además, es redactora en El Planteo y se desempeña como Community Engagement Manager en Benzinga Cannabis, empresa madre de El Planteo en EE.UU. Franca estudió Periodismo en TEA y Comunicación en la Universidad de San Martín.