About this Event
Youth already had it tough before, with increasing unemployment, school dropouts, and a worrisome number of inequalities (especially in rural areas and between young girls). But with a novel global pandemic and a set of challenges that seemed to have grown even more dire, we wondered... shouldn't we stop trying to fix new problems with old solutions? Are we ready to face this new reality, together?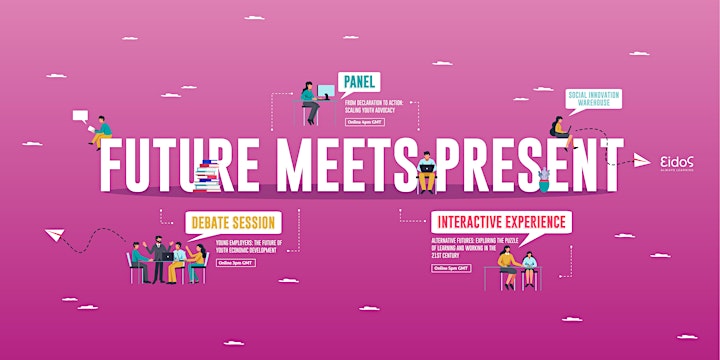 The spirit behind the event
Youth at a crossroads is an invitation to see what happens when we place young people at the centre of the decision making process and when we relocate them in the economic development paradigm. We want to celebrate youth with hope about our common future, revising some of the great achievements that can take place if young people have a chance to lead and create the world they want to live in. It is also a chance to get together and revisit some of the old and new struggles next generations are facing, to review the state of Advocacy and youth diplomacy, so we can improve our collective action to transform reality. Finally, it is also a space to spark new questions, like: What is the weight of the word "youth"? Can we really talk about "youth" as a singular, homogeneous group? or How can we do a better job at representing the different faces of young people and how can that diversity fuel better decisions for a better world?
About the Sessions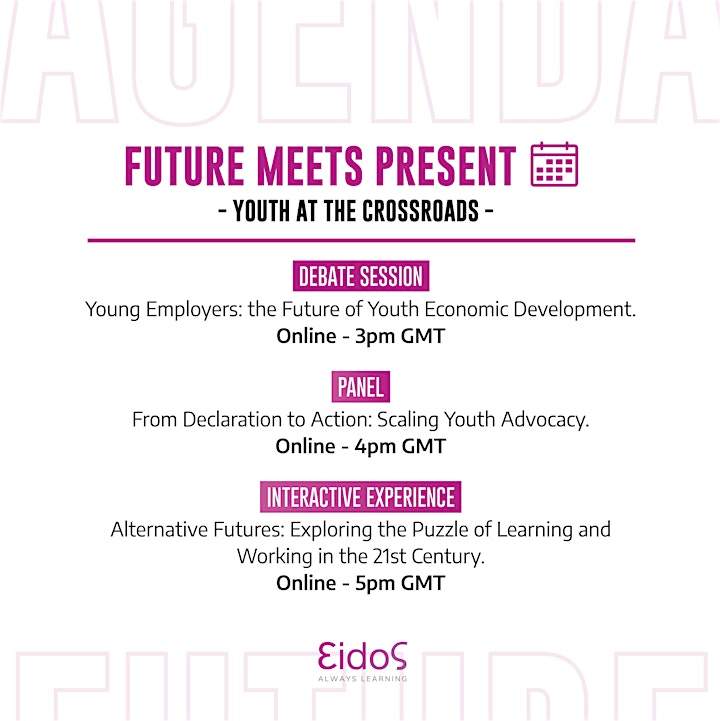 Debate Session - Online - 3pm GMT
Young Employers: the Future of Youth Economic Development
Much has been said about youth unemployment, and "the challenges of hiring/retaining millennials at work", more often than not depicting young generations as difficult to employ. But what happens when they have the opportunity to become employers? Do they do things differently? And what can "old" and "new" employers learn from each other?
Join young social entrepreneurs from the Social Innovation Warehouse, Corporate employers and experts in an open discussion about what it means to create jobs in the 21st century.
Join the Zoom meeting
https://zoom.us/j/92040819099?pwd=b0QvV3E2ckVSRFJxMC94Yy91L24wQT09
Access code: EidosFMP1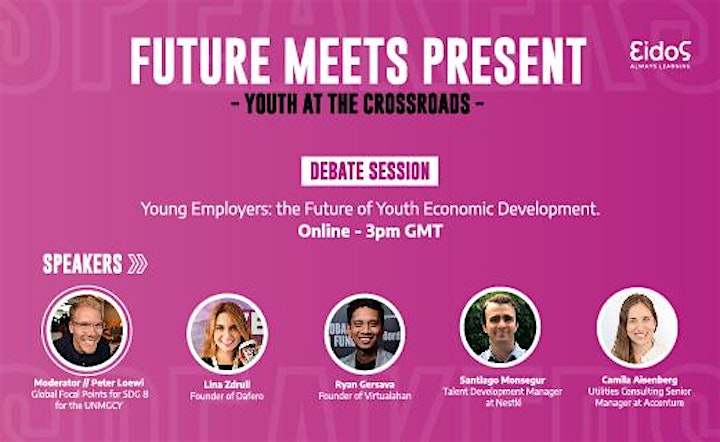 Panel - Online - 4pm GMT
From Declaration to Action: Scaling Youth Advocacy.
2 years from Youth20 Argentina, we sit down with 6 of the former participants and global advocates to discuss the future of advocacy, the role of youth on social impact and what changes need to happen within youth international conferences and groups to take advocacy to the next level.
Join us & hear first hand from young leaders like you who are hustling to transform youth participation around the world.
Join the Zoom meeting
https://zoom.us/j/96964247538?pwd=UmdvSk5zZi84SVNkcWlodXZ4WXhPQT09
Access code: EidosFMP2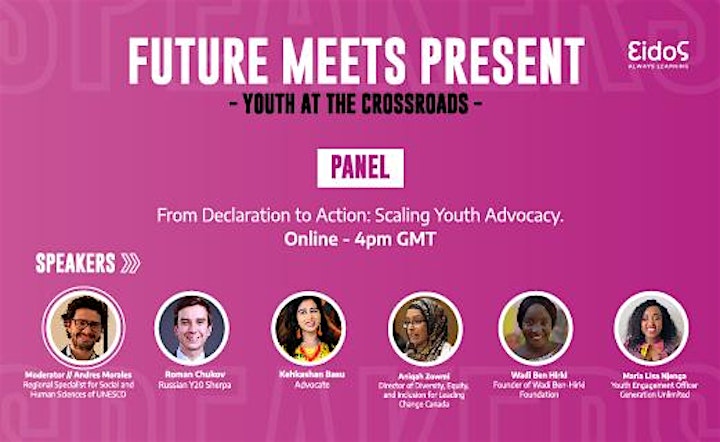 Interactive Experience - Online - 5pm GMT
Alternative Futures: Exploring the Puzzle of Learning and Working in the 21st Century.
>> (Extra ticket required) <<
The best way to be ready for the future is to experience it. Imagine to have the opportunity to travel through alternative future realities -some Utopian, some Dystopian- about how we will learn and work in the future.
In some rooms, participants will be welcomed by a host -who happens to be a young social innovator – that will share a life lesson from working in places where everything is more difficult and yet the future is in the making. In others, they will have to immerse in the story in order to solve a challenge collaboratively. The goal is to arrive to a final debate to share our lessons learned and collectively build the ideas of the futures we want to live in.
Join the Zoom meeting
https://zoom.us/j/95815840772?pwd=UlB4eGJkZzEzRm54VERObjk0WG0vQT09
Access code: EidosFMP3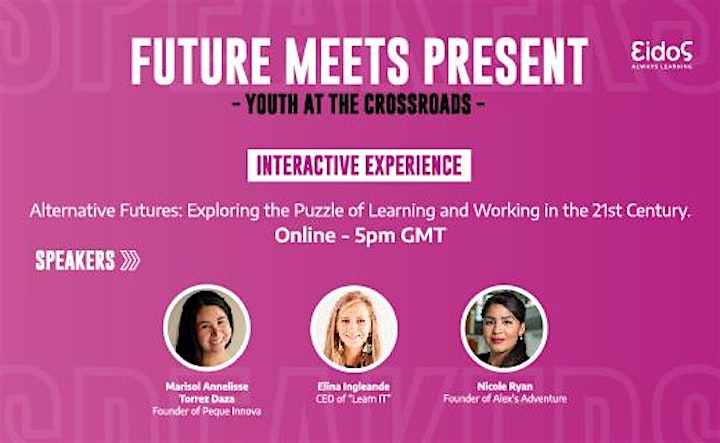 This event is organized by Eidos Global.
It will require prior registration. The meetings will be held on the Zoom platform.
During the next few days we will share with you the full speaker list and the links to sign up for each one of the sessions!
Stay tuned!
IMAGE USE DISCLAIMER
Picking a time slot for this event was hard. Inevitably, somewhere around the world would be midnight and people wouldn't be able to join.
To make up for the time difference, we decided we will upload the sessions to our youtube channel, in the hopes that anyone who missed the opportunity, can watch it at a later time.
In this sense, the submissions to this event will constitute a permit and a waiver for Eidos to upload the content to its social media platforms, website and use the material to communicate the results of the sessions. This means that, if your camera is on or your name is on the screen, when we upload the content it will be visible.
All the personal information provided at the submission form however, will remain private and will not be shared with 3rd parties, as stated in our privacy policies. The reason behind the submission form is basically to better understand where our participants come from, what do they do, so we can better localize future content or events to that information.
Thank you for trusting us!