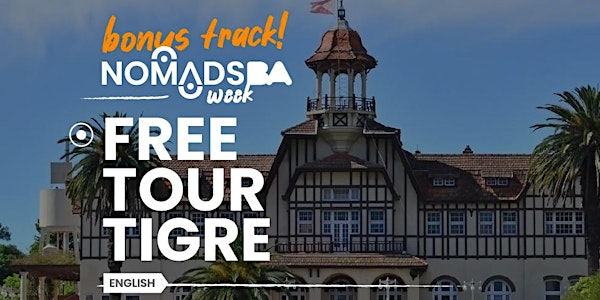 FREE WALKING TOUR TIGRE | ENGLISH | NOMADS WEEK
Come to visit one of the oldest and most beautiful places in Buenos Aires with other nomads & expats!
Cuándo y dónde
Ubicación
Retiro 1430 Avenida Doctor José María Ramos Mejía Buenos Aires, CABA C1104 Argentina
Acerca de este evento
📆 Sunday, December 4 | 10:00 am to 13pm | Retiro Mitre Train Station
Tour duration: 3 hours
Please note:
-In case you want to stop for food or drinks, you will have to bring some cash
- Bring comfortable shoes, and a bottle of water!
- On this tour you put the value you want, so if you like the tour, please leave your kind contribution to our host!
Nomads, this is the whatsapp group for coordinate all the details for the TIGRE'S meeting (sunday 4 dec at 10am)! Its a really beautiful and one of the most turist places to visit in BA: https://chat.whatsapp.com/IVTCASAGY8IEwoAMQ9bw9P It'll be so funny go together! Anyone can join it! You can see more of TIGRE there: https://acortar.link/3CKy6K
📌 ABOUT THIS EVENT
Want to enjoy beautiful nature, arts and architecture? Join us on this Tigre Delta journey and discover why locals and visitors love it.
What we will do
Walking Tour around Tigre Delta and the Art District! Organized by Experience Baires. Follow us on Facebook and Instagram @experiencebaires!
We are heading to Tiger Delta, in the city of Tigre in northern Buenos Aires, famous for its Mercado de Frutos, Art District, Paseo Victorica, among other things. Some of them are well-know tourist spots, while others are hidden treasures yet to be found. We will take an alternative route to discover the hidden treasures of Tigre. Among them is the vibrant art scene of Boulevard Saenz Peña, the Tigre Art Museum, among others
We want our guests to discover the vibrant Tigre River Delta, which brings together exotic nature, a vibrant art scene, and elegant architecture, all in one place. Come join Experience Baires and discover the off the beaten path of the northern suburbs of Buenos Aires.
The tour's language is English. The meeting point will be in the Retiro Central Train Station (Mitre Train, Platform 3 or 4) in Capital Federal, at 10:00am. Alternatively, if you want to take the train yourself or reach Tigre by your own means, we can meet around 11:30 am in the Delta Main Station (First take the Train on Platform-34, then get off at Mitre Station and then combine with the Train Coast at Maipú station up to Delta Main Station).
About Experience Baires
For more immersive experiences and tours, check out our website: https://experiencebaires.com/
And follow us on Instagram @experiencebaires !
See you!
🌏💻🎉 Nomads BA
💣 ABOUT NOMADS WEEK
The biggest in-person conference for digital nomads, remote workers, and freelancers in Latin America.
From November 28nd till december 3th, Buenos Aires will be hosting hundreds of Digital Nomads from all around the world in a whole and full of events week around the city
Workshops, Airbnb experiences, tours, yoga, bbq, open coworking, networking cocktails, and international speaker conferences, and many more free activities to enjoy the city, make contacts and friends and connect with your digital entrepreneurship side.
Discover the mix between remote work, a nomad community, and Buenos Aires exiting culture
💻 Join us to meet the community !
Freelancers y profesionales
That's why "NomadsBA Culture" exists, a proposal totally created to share cultural activities in Buenos Aires among nomads: events, tours, guided tours, shows and experiences. Always free exclusively for the community! 🤝🏻
Throughout this year we will carry out more activities of Nomads BA Culture and other experiences such as: Nomads BA Talks, Nomads BA Party, Nomads BA Wellness, Nomads BA Volunteering and Nomads BA Open Coworking, with the goal of boosting and connecting the community and, obviusly, know the best of this amazing city. 🏙️
📲 To find out about all the news and free activities that you can enjoy in the city this year, join our platforms:
•Discord: https://bit.ly/3e3gIOB
•Meetup: https://bit.ly/3cwJBTc
•Whatsapp group: https://bit.ly/3RrtF35
•Youtube: https://bit.ly/3CLcNk2
•TikTok:https://bit.ly/3R3oaIj
•LinkedIn: https://bit.ly/3eazHXw