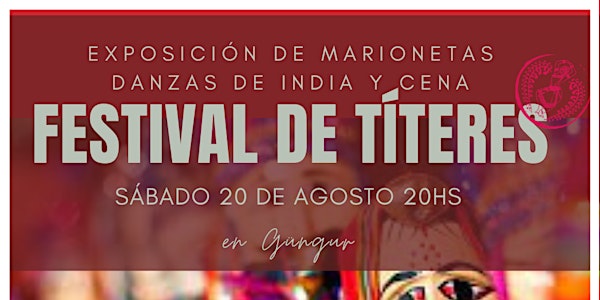 FESTIVAL DE TÍTELES + DANZA + GASTRONOMÍA
FESTIVAL DE TÍTERES + DANZA CLÁSICA + GASTRONOMÍA
When and where
Location
Centro Cultural Güngur y Thali 4175 C1186ABA José A. Cabrera Palermo, caba C1186 Argentina
Refund Policy
Contact the organizer to request a refund.
Eventbrite's fee is nonrefundable.
About this event
Te invitamos a una velada muy especial. El evento comenzará a las 20hs con una instalación de marionetas que podrás disfrutar en nuestro espacio cultural. Luego se realizará una actuación y video performance de algunas marionetas en un teatro preparado especialmente.
Seguidamente se presentará un espectáculo de danzas clásicas de la India y para finalizar te serviremos un exquisito menú de cinco pasos preparado especialmente por el Chef Rabindranath Jana.
El valor de la entrada no inlcuye bebidas.
Acerca de la instalación de marionetas:
Atista: Paola Landriel
Obra: Marionnettes
Exposición: 15 Marionetas de la India, 2 de Birmania
La instalación fue creada en el marco de la pandemia en la primera cuarentena, la misma fue presentada en Luxemburgo obteniendo un reconocimiento al mérito.
Inspirada en los teather papier alemanes y la cultura Hindú, trabajando junto al maestro director de orquesta J.J.Lemetre del Teatro du Soleil de París, cabe destacar que el teatro incorpora la cultura de la India y asiática en sus obras.
La instalación consta de un video arte el cual fue grabado en vivo la artista performer y el maestro para luego transmitir el dispositivo Tablet, la misma se encuentra en el centro del escenario, en el cual se encuentran encendidas las luces de colores Magenta, amarillo, azul, verde. Es una escena que se obsequia a los Dioses entre los cuales se destacan Shakti y Ganesha, los que se encuentran en frente a través del teatro de sombras. Se encuentra una conexión entre la música, el arte y los Dioses.
La exposición de las Hermosas marionetas y su esplendorosa presencia ponen en contexto al espectador y lo invitan a ser parte de una noche mágica del encuentro entre el arte y los Dioses.
Una obra para toda la familia, para conectar con la belleza, la sensibilidad, el arte y la cultura viajando a un lugar inolvidable.
A CONTINUACIÓN TE ENVIAMOS EL MENÚ VEGETARIANO. SI NO SOS VEGGIE POR FAVOR ESCRIBÍNOS UN MAIL CON 24HS DE ANTICIPACIÓN A INFO@GUNGUR.COM Y TE ENVIAMOS LAS OPCIONES PARA TI.