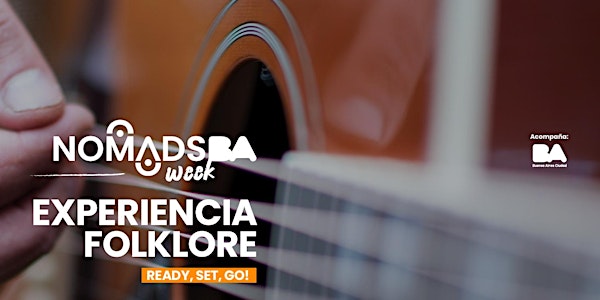 EXPERIENCE OF FOLKLORE AND ARGENTINEAN TRADITION
We invite you to a space to share cultural identity, Argentine tradition, learn to dance, and interact with other nomads or foreigners!
Cuándo y dónde
Ubicación
Perú 715 715 Perú Buenos Aires, CABA C1068 Argentina
Acerca de este evento
📆
December 4 / 7 a 10 pm / 19hs a 22hs
Punto de encuentro: Peru 715 - TIMBRE 1
Reserve your place on this link and get your tickets
Limited places.
This event is ENGLISH/SPANISH & FREE.
Please confirm your spot by joining to this wa group:
https://chat.whatsapp.com/CMD6AgL54KbHcmC2TVeNxf 👈🏻
You have time until 5pm to book your place!
📌 ABOUT THIS EVENT
🧉Mate drinkers, football passionate, kiss greeters, dulce de leche creators... Argentinians. Their culture is all about connecting with each other and getting together as often as possible. Are you involved already? 🇦🇷⚽
It will be a true encounter with yourself and with the other, through a warm gaze -characteristic of Folklore- you will connect with the dance that links with the heart and vibrates in the being.
We will tell you about the variety of Argentine dances of this discipline, its history and characteristics. You will learn, you will practice the basic steps and techniques of its different types and we will dance in community to the beat of live music.
Dancing and connecting with other people from this universal language is good for our soul, we invite you to move your body and have fun knowing first-hand the roots of Argentina.
Other benefits of the practice: reduce stress, increase your energy level, correct poor posture, boost your confidence and self-esteem, train your memory, stimulate creativity, promote body language, facilitate social relationships, combine learning and fun, favor physical and emotional development, strengthens heart rate and lung capacity.
*The practice will be in Spanish+English.
Everyone is welcome!
**BONUS TRACK!**🌟
"La Bulle de San Telmo" offers to the community exclusive discounts to take different classes of MEDITATION, YOGA, TANGO & FOLKLORE!
Consult and request it mentioning the code "NomadsBA2022".
Contact them at Whatsapp +54 9 11 36 61 89 90 or by mail reservasbuenosairesquerido@gmail.com
Hope to see you there!
🌏💻🎉 Nomads BA
💣 ABOUT NOMADS WEEK
The biggest in-person conference for digital nomads, remote workers, and freelancers in Latin America.
From November 28nd till december 3th, Buenos Aires will be hosting hundreds of Digital Nomads from all around the world in a whole and full of events week around the city
Workshops, Airbnb experiences, tours, yoga, bbq, open coworking, networking cocktails, and international speaker conferences, and many more free activities to enjoy the city, make contacts and friends and connect with your digital entrepreneurship side.
Discover the mix between remote work, a nomad community, and Buenos Aires exiting culture
Check the complete calendar at https://nomadsba.com
Join us to meet the community !
Freelancers y profesionales
Nomads BA Talks is a special area area of our community, dedicated to learning useful tools, getting motivated to live the life you dream of, and improving your digital nomad skills!
📲 To find out about all the news and free activities that you can enjoy in the city this year, join our platforms:
•Discord: https://bit.ly/3e3gIOB
•Meetup: https://bit.ly/3cwJBTc
•Whatsapp group: https://bit.ly/3RrtF35
•Youtube: https://bit.ly/3CLcNk2
•TikTok:https://bit.ly/3R3oaIj
•LinkedIn: https://bit.ly/3eazHXw