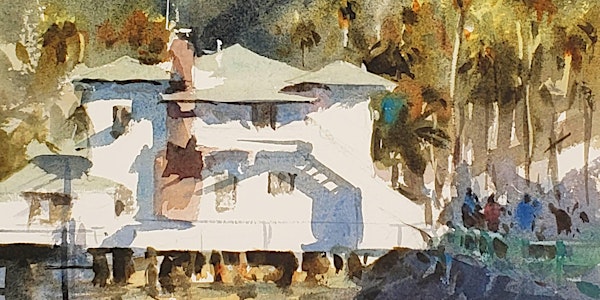 Demo de Acuarela - ANDY EVANSEN -Minnesota EEUU
'Value Study to Color Painting'
Acerca de este evento
Andy Evansen
es un destacado acuarelista estadounidense de Minnesota (EE. UU.). Actualmente considerado uno de los grandes maestros de la acuarela mundial, especialmente por su fantástico trabajo al aire libre, donde es capaz de capturar la luz y las atmósferas de manera magistral.
Después de años de trabajo como ilustrador médico, decidió dedicarse a la acuarela a tiempo completo. Como dice de sí mismo, siempre se inspiró en las acuarelas de artistas británicos
Ha aparecido en muchas publicaciones como Pratique des Arts, International Artist, IWS Magazine, The Artist y la revista Artist Artist, y se ha convertido en un instructor de taller muy solicitado que pinta y enseña internacionalmente.
Se convirtió en miembro del prestigioso Plein Air Painters of America (PAPA) en 2012 y fue su presidente de 2015 a 2017.
Sus pinturas han ganado numerosos premios, incluida la Medalla de Bronce y la Medalla de los High Winds de la American Watercolor Society.
Expone regularmente con la American Watercolor Society, la convención estadounidense Plein Air e incluso ha participado como artista líder en el evento internacional de acuarela Qingdao International Masters 2017.
Andy Evansen Watercolor Workshop lista de materiales
-Papel de acuarela 9x12(Kiliminjaro from Cheap Joe's, o Arches ) 1/4 de hojaYo uso Arches y Winsor Newton cold press y Saunders 140 lb. rough.
-Acuarelas en tubo . Mi paleta contiene Tintes natuales , Paynes Gray, Ultramarine Blue, Cobalt Blue, Cerulean Blue, Raw Sienna, Burnt Sienna, Quinacridone Gold, Alizarin Crimson, Cadmium Red, Cadmium Lemon. (* Estos son los colores sugeridos ) La mayoria son Winsor & Newton
-Paleta; que sea de buen tamaño. la de John Pike palette es fabulosa.
-Pinceles ; Use lo que se sienta cómodo, pero normalmente yo uso un cepillo de trapeador de pelo de ardilla para grandes lavados (Silver hace una buena variedad de pinceles redondos de acuarela Black Velvet disponibles en muchos lugares de suministro de arte), un tamaño 14 más o menos (Cheap Joe's Pseudo Sable es una buena opción), y un sintético de tamaño 10 más pequeño para trabajos de detalle.
-Lápiz n. ° 2 y goma de borrar
-Contenedor de agua
-Esponja para secar los pinceles y esponja natural para mojar el papel. Además, es bueno tener un pequeño recipiente de plástico para que la esponja no gotee agua por toda la mesa.
-Cinta del artista, ½ "de ancho
Sábado 24/07 14:30 p.m. (Argentina)
12:30 ( Minnesotta, EEUU)19:30 p.m (Italia, Francia Madrid) 18:30 p.m. (Londres)
Via ZOOM
Actividad gratuita
Audio en Inglés con traducción simultanea en español
NOTA: Las instrucciones y los enlaces de descarga de información estarán en su correo electrónico luego de inscribirse y recibir la confirmación del pedido. Por favor revise sus carpetas de correo no deseado para un correo electrónico de ale_grayeb@yahoo.com
--------------------------------------------------------------------------------------------
Andy Evansen's interest in art started in childhood, as he can't recall a time when he wasn't drawing. He began painting watercolors in the mid 1990s as a change of pace from his career as a medical illustrator. Choosing a 'style' was not difficult, as Andy was always inspired by the watercolor paintings of British artists Trevor Chamberlain, David Curtis, Ed Seago and Edward Wesson, among others.
He found himself attempting to capture the landscape with the same economy of brushstroke, taking advantage of the luminosity of watercolors done in just a few washes. In addition, he was impressed with the way those artists seemed to capture everyday scenes in such a way that revealed a hidden beauty, subjects that many would simply pass by.
His work gained recognition after winning an international watercolor competition through American Artist magazine, appearing on their cover in 2005. He's been featured in numerous other publications since, and has become a sought-after workshop instructor who paints and teaches internationally. He became a signature member of the prestigious Plein Air Painters of America (PAPA) in 2012 and served as their President from 2015-2017. His paintings have won numerous awards, including the Bronze and High Winds Medals from the American Watercolor Society, and he was their demonstration artist for the 2018 Exhibition. His love of painting on location also led to him being a featured presenter at the 2014 and 2016 Plein Air Conventions and inclusion in the 2017 Qingdao International Masters Watercolor Plein Air Event.
Andy Evansen Watercolor Workshop supply list
-Paper; please have a 9x12 pad of watercolor paper (Kiliminjaro from Cheap Joe's works well, or Arches makes a 9x12" pad also) for value studies as well as good quality paper, quarter sheet size, for paintings. I use Arches and Winsor Newton cold press and Saunders 140 lb. rough.*You may want to bring a 12x16 block of Arches 140lb cold press for the exercises we will do together.
-Paint; Tubes of paint, not the dried up cakes in pans. My palette consists of Neutral Tint, Paynes Gray, Ultramarine Blue, Cobalt Blue, Cerulean Blue, Raw Sienna, Burnt Sienna, Quinacridone Gold, Alizarin Crimson, Cadmium Red, Cadmium Lemon. (*These are suggested colors, you're welcome to use what you have ) Most are Winsor & Newton, but I've found Holbein's Raw Sienna to be better.
-Palette; must have good size mixing area. The John Pike palette is wonderful.
-Brushes; Use what you're comfortable with, but I typically use a squirrel hair mop brush for big early washes (Silver makes a good variety of Black Velvet round watercolor brushes available from many art supply venues), a size 14 or so for the ntermediate washes (Cheap Joe's Pseudo Sable is a good option), and a smaller size 10 synthetic for detail work.
-No. 2 pencil and kneaded eraser
-Water container
-Household sponge for drying your brushes and a natural sponge for wetting your paper. Also, it's nice to have a small plastic container for your household sponge so it doesn't leak water all over the table.
-Artist's tape, ½" wide
Saturday 24/07 14:30 p.m. (Argentina)12:30 (Minnesotta, USA)19:30 p.m. (Italy, France, Madrid) 18:30 p.m. (London)
Via ZOOM
Free activity
Audio in English with simultaneous translation in Spanish
NOTE: Instructions and information download links will be in your email after registering and receiving order confirmation. Please check your spam folders for an email from ale_grayeb@yahoo.com