Cyber Clown Girls Presents: Girls! Girls! Girls!
About this event
Once you purchase a ticket, you will be e-mailed the link to the Online Event Page, which includes the information and Zoom password for the event! Please check your e-mail (& also your Spam folder)! *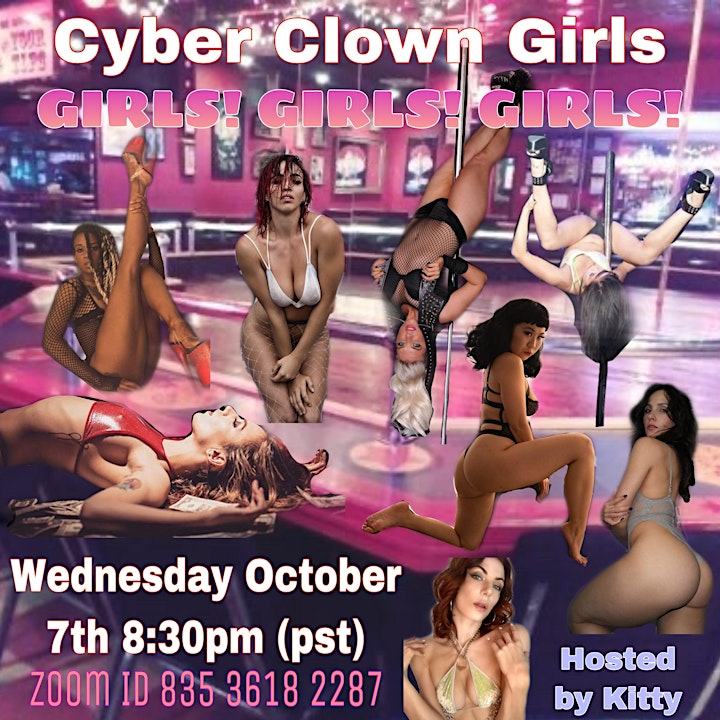 Cyber Clown Girls Presents: Girls! Girls! Girls! Strip Club vibes!
SHOWTIME 8:30pm (pst)! Running late? No biggie! Our show is approximately 3 hrs long and you can join and get a good show at any time.
Join us on Zoom for this virtual event! Tips & admission are split equally between seven dancers & a significant portion will to be donated to an organization current and relevant.
This episode we are donating to Funds4Caregivers. They features Black caregivers and community members who are in high need of funds to sustain their livelihoods! Swipe through thier instagram posts to find a family in need. Remember that redistribution is a crucial way of showing up for others! Let's mobilize our resources and help these people meet their goals!
We have donated over $12,000 to like-minded organizations such as Black Lives Matter LA, Gender Justice LA & the Martha P. Johnson Institute over the past five weeks. The more you tip, the more we can pay it forward! <3
As much as we understand wanting to savor this experience, we ask that you respect the privacy of the dancers and the magic of "live performance" by not recording us on your device. Thank you!
Are you familiar yet with Zoom? Zoom is the leader in modern video communications and it happens to be our preferred platform for throwing a virtual party with a show! Cyber Clown Girls Presents: Girls! Girls! Girls! is an online event where we will perform for you LIVE through Zoom - all you need is a computer, a laptop or a cell phone and you can tune in and be a part of our live audience!
We prefer that you remain muted to prevent audio disruptions during the show, but we encourage you to turn your videos on! We love seeing our audience face to face -- it makes the atmosphere feel more like the neighborhood bar we love and miss.
* Once you purchase a ticket, you will be e-mailed the link to the Online Event Page, which includes the information and Zoom password for the event! Please check your e-mail (& also your Spam folder)! *