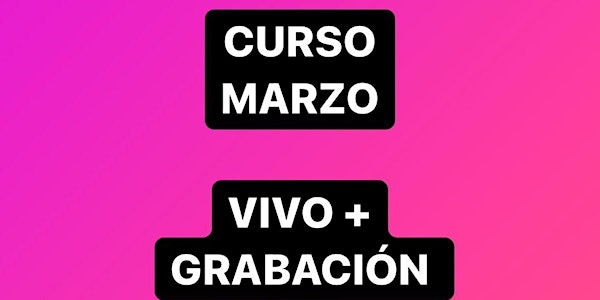 CURSO CRIANZA RESPETUOSA MARZO: VIVO + GRABACION
CURSO DE CRIANZA RESPETUOSA: HERRAMIENTAS PARA CRIAR CON RESPETO Y AMOR: EN VIVO Y GRABADO !!
Refund Policy
Contact the organizer to request a refund.
Eventbrite's fee is nonrefundable.
About this event
TEMARIO
* Objetivos de la crianza respetuosa a corto y largo plazo.
* "Mi hijo muerde" "pega" "se retuerce cuando le cambio los pañales" ¿Es normal? ¿Qué hago?
* "Le pegó o otro niñx". ¿Cómo intervenimos los adultos?
* Límites: ¿Cómo los ponemos? Limítes efectivos desde la crianza consciente y respetuosa. ¿Todo es un límite?
* Usos del NO y otras alternativas.
* Berrinches ¿Qué son? ¿Qué les pasa a nuestros hijos durante un Berrinche? ¿Y a nosotros? Abordaje del berrinche.
* Carga mental y multitasking. Expectativas sobre el desempeño adulto. ¿Cómo aliviarlas? Desregulación adulta.
* Cerebro en la infancia. ¿Adultos en miniatura?
* Necesidades del cerebro infantil ¿Cómo colaboramos en el desarrollo sano del cerebro y la inteligencia emocional de nuestros hijos?
* Salud Mental adulta en la crianza. ¿Cómo conservar la calma mientras criamos?
* Tiempo Fuera Positivo, un recurso para toda la vida.
A QUIEN ESTA DIRIGIDO?
Este curso es para familias que quieran tener más herramientas en la crianza de niños y niñas entre 0 y 5 años.
A través de ejemplos y situaciones cotidianas abordaremos los porqués de algunos comportamientos de nuestros peques y distintas estrategias concretas para enriquecer nuestros recursos como adultos.
MODALIDAD
Es un curso online a través de Zoom. Podés hacerlo desde cualquier parte del mundo. SI NO PODES ESTAR EN EL VIVO: luego del mismo se envia la grabacion para verlo por una semana ! No te preocupes !
DURACION
El curso dura aproximadamente 1 hora y media. Luego nos quedamos conectados TODO EL TIEMPO QUE HAGA FALTA para compartir sus inquietudes y despejar sus dudas.
DE REGALO: LUEGO DEL CURSO SE LLEVAN LA GRABACION PARA VER POR UNA SEMANA !
QUIEN LO DICTA?
Ludmila Bosco Ackerman. Licenciada en Psicología de la Universidad de Buenos Aires y mamá de dos niños de 1 y 4 años.
Fue Concurrente del Hospital Central de San Isidro dentro del servicio de Salud Mental.
Profundizó sus estudios en el área de Psicología perinatal, crianza y vínculo temprano.
Formación de Posgrado en Técnicas de reproducción asistida humana y clínica de la filiación, UNSAM.
En el ámbito educativo se desempeña como codirectora de Desarrollo Próximo Educación,equipo psicopedagógico.
Es psicóloga clínica.
Jime Le Bellot, medica pediatra y mama. Instagram: @soymamaypediatra