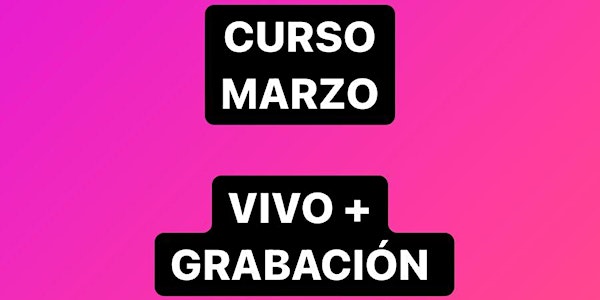 CURSO BLW Y ALIMENTACION COMPLEMENTARIA MARZO: VIVO + GRABACION
CURSO DE BLW Y ALIMENTACION COMPLEMENTARIA: VIVO MAS GRABACION !
Refund Policy
Contact the organizer to request a refund.
Eventbrite's fee is nonrefundable.
About this event
Online: Como en el consultorio pero desde tu casa! 😎🏠 ♥️🥦
Nos unimos Jime Le Bellot y Meli Jurozdicki para traerles este curso espectacular de alimentación complementaria!
TEMARIO:
🍐Cómo garantizarles una alimentación autorregulada, de buena calidad y segura! Los 3 pilares de una alimentación sana!
🥑Baby Led Weaning o BLW : ¿Qué es? ¿Cómo ofrecer y presentar los alimentos? ¿Y si prefiero con papillas? ¿Qué tener en cuenta? Curso CERO fundamentalista! 😎
🍆Con qué alimentos se puede comenzar y con cuáles seguir? ¿A qué edad? Todos los grupos de alimentos en detalle para una alimentación variada y completa.
🍊Presentación de alimentos potencialmente alergénicos . Como la hacemos?!
🥝Correcta manipulación de los alimentos para evitar contaminación y riesgo de infecciones.
🍏Mi bebe no come nada ¿Qué hago? ¿Es normal? ¿Cómo me manejo con la lactancia?
🥦Maniobras de desobstruccion de via aérea con demostración práctica.
Arcadas: Por que se producen? Cómo actuar?
SE LLEVAN LUEGO DEL CURSO:
*recetario 🤩
*ideas de menú semanal 🤩
*guía de cortes (Con todas las formas de presentar los alimentos en BLW! NO SABEN LO LINDA QUE ES! )
* La grabación del curso para volver a verlo por UNA SEMANA !!
.*Modalidad: Via zoom (desde tu celu o compu) + GRABACION luego del curso para verlo por una semana (o el tiempo que necesites )
Esta dirigido a familias con bebes que estan por arrancar la alimentacion complementaria y tambien para familias que ya arrancaron pero quieren cambiarla con informacion de la buena!
❤️🥦DALE!! QUE ESTE CURSO SE LAS TRAE 🤩😎