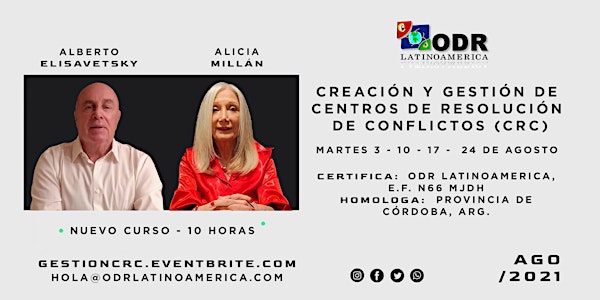 Creación y Gestión de Centros de Resolución de Conflictos
Curso 100% online. Incluye eventos sincrónicos, asincrónicos, material de estudio. 10 horas
Refund Policy
Contact the organizer to request a refund.
Eventbrite's fee is nonrefundable.
About this event
Creación y Gestión de Centros de Resolución de Conflictos
Certifica 10 hrs ODR Latinoamerica EF N66 MJDH
Homologa 10 hrs Provincia de Córdoba, Argentina
Contenido Programático
CRC: objetivos, rol que desempeñan en la comunidad Centros Públicos, Institucionales y Privados." ¿Qué hacen?"
Visión: utopía y realidad
Misión: análisis del "para qué" lo hacen.
Valores: formulación del "cómo se hace"
Difusión: alcance y limites, distintas modalidades.
Aspectos fundamentales de la etapa fundacional. Planificación y preparación.
Normas de Funcionamiento. Aspectos Éticos y Deontológicos.
Recursos indispensables para la consecución de los objetivos.
Capital Humano: perfil y formación de sus integrantes. "Quiénes lo hacen".
Destinatarios de los Servicios: estudio del "para quiénes lo hacen"
Cronograma:
martes 3 – 10 – 17 – 24 de Agosto
15 a 17.30 hs de Buenos Aires, Argentina
13 a 15:30 hs D.F., México.
13 a 15:30 hs Lima, Perú
20 a 22:30 hs Madrid, España.
Docentes
Alicia Millan
Coordinadora de la Licenciatura en Resolución de Conflictos y Mediación de la UNTREF. Directora del Instituto del Conflicto de la UNTREF. Directora del Posgrado de Negociación de la UNTREF. Directora de la Diplomatura en Negociación Organizacional en laDirección Académica y del Conocimiento del Consejo Profesional de Ciencias Económicas de la Ciudad Autónoma de Buenos Aires (CABA). Directora de la Diplomatura en Negociación y Resolución de Conflictosde la Universidad Champagnat. Embajadora Argentina del Foro Internacional De Mediadores Profesionales FIMEP de la Universidad Loyola Andalucía, España. Coordinadora Técnica de la Comisión de Mediación y Gestión de Conflictos de la Federación Argentina de Consejos Profesionales deCiencias Económicas FACPCE. Docente de Negociación y Resolución de Conflictos en Universidades del Exterior. Autora de diversos libros sobre la temática de Resolución de Conflictos. Observadora Internacional de las Elecciones Nacionales de México. Reconocimiento a la "Mejor Mujer Mediadora" 2018 otorgado por la Universidad de Las Palmas de Gran Canaria, España y UNESCO, Canarias
Alberto Elisavetsky
Fundador y Presidente de ODR Latinoamerica www.odrlatinoamerica.com. Director del Observatorio del Conflicto Social y del Posgrado en ODR de la Universidad Nacional de Tres de Febrero. Miembro del Directorio de ICODR - International Council for Online Dispute Resolution. Fellow of the National Center for Technology and dispute Resolution, Massachusetts. Editor Online Dispute Resolution Journal Latinoamerica. Embajador de Paz Fundación Mil Milenios de Paz - UNESCO
*Si desea abonar mediante Transferencia o Deposito bancario por favor escribir a hola@odrlatinoamerica.com
Contacto
Mail - hola@odrlatinoamerica.com
Whatsapp - +54 9 11 3394-0940