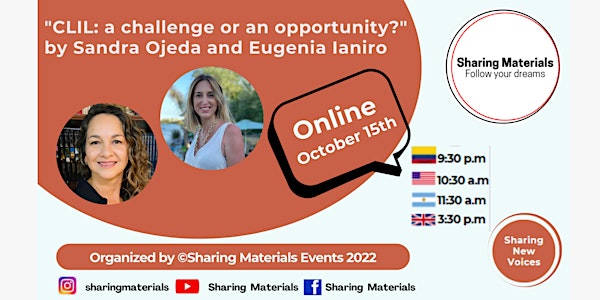 "CLIL: a challenge or an opportunity?" Sandra Ojeda and Ma. Eugenia Ianiro
"Sharing New Voices" Webinars for teachers, English Language Professionals & Advanced Language Users
Política de reembolsos
Comunicate con el organizador para solicitar un reembolso.
El costo del servicio de Eventbrite no es reembolsable.
Acerca de este evento
Sharing Materials invites you to participate in "Sharing New Voices" Webinars for teachers, English Language Professionals & Advanced Language Users.
"CLIL: a challenge or an opportunity?" by Sandra Ojeda and Eugenia Ianiro
✅When?
✅Where?
Online by Zoom
✅Audience
Teachers and educators who want to expand their knowledge on CLIL and students taking the English Teacher Training Programme.
✅Abstract
We all know that the educational world is constantly changing; therefore, it is important to be well-equipped with resources and knowledge to respond to its demands. As teachers, we are required to innovate and create, as well as implement different approaches to teach English. In this context, CLIL appears as an opportunity to face those demands. In this workshop, we will discuss the theoretical background of CLIL and its benefits in the EFL classroom. We will also explore some challenges and opportunities that it presents not only for our students but also for teachers.
✅About the Speakers
María Eugenia Ianiro is a graduate teacher of English (IDRA) and holds a degree as Licenciada en Lengua Inglesa (Universidad de Morón). She also holds a postgraduate diploma on Neuro-education (Universidad de Villa María, Córdoba). She is currently taking a Course on Neuroscience for Educators at Asociación Educar and is taking a course on Práctica e Investigación Docente in Fundación Archipiélago. She is currently writing her dissertation for the NILE Master in Professional Development for Language Education, Chichester University in the UK. She is a teacher trainer at EFL Teacher Education Programmes, CIEDA (Campana) and ISFD Nº 23 (Luján), both in the province of Buenos Aires, Argentina. She has specialized in language, phonology and methodology. She is a member of the executive committee of APIBA, the Buenos Aires English Teachers' Association.
Sandra Guadalupe Ojeda is a Teacher of English and Translator from I.E.S. "José María Torres" in Paraná and I.E.S. N 8 "Alte. Guillermo Brown" in Santa Fe. She holds a MA in Teaching English as a Foreign Language from the Uneatlántico University in Spain. She also has Specialization Degrees in Higher Education and ICT, High School Education, and Teaching Practice. She is currently taking a course on Práctica e Investigación Docente in Fundación Archipiélago. At present she is an educator at Universidad Autónoma de Entre Ríos and I.E.S. "República de Entre Ríos." She also teaches at I.S.P.I 4020 "San Roque" in Santa Fe. She is currently a presenter of the Teaching Capacity Building 2021 programme sponsored by the U.S. Embassy. She is an active member of the ELT community as organiser and presenter.
✅Payment Details:
➡️Participants from Argentina: By Eventbrite - cuenta DNI or Bank Transfer.
➡️Participants from other countries U$10 by Paypal
Ask for details by Whatsapp, please.
✅Certificate of Attendance & Digital Material will be issued.
✅ Contact the organizer for further info:
Andrea Pollera
(+54) 9 2914043129
Organized by © Sharing Materials Events 2022