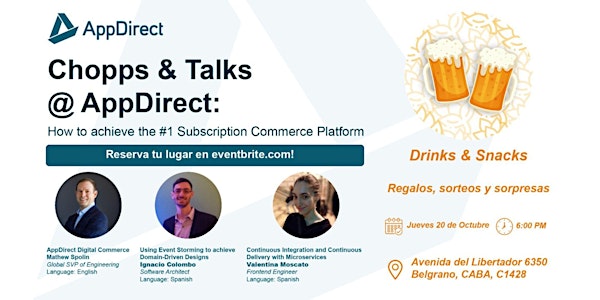 Chopps & Talks @ AppDirect
Vení y sumate a nuestra misión de impulsar el Comercio Digital!
When and where
Location
AppDirect 6350 Avenida del Libertador Belgrano, CABA C1428 Argentina
About this event
En AppDirect estamos escalando costantemente para satisfacer las necesidades del negocio y de nuestros clientes.
La única forma de estar a la altura de este desafío es descubrir y diseñar el Dominio con las técnicas y herramientas correctas de Domain-Driven Design, y asegurar la Calidad del Delivery a través de un Modelo de Delivery robusto y confiable.
Vení a compartir unas cervezas y snacks con nosotros mientras te contamos de nuestras prácticas y experiencias que nos llevaron a ser la Plataforma de Subscription Commerce número uno del mundo.
Además es una gran oportunidad de conocer al equipo y tener la oportunidad de hablar y conocer a Mathew Spolin, nuestro Global SVP of Engineering, que vendrá directamente de Silicon Valey para hablarnos del mundo del Comercio Digital.
Y por supuesto, no te pierdas los regalos y el sorteo sorpresa!
Agenda
6:00-6:30 Bienvenida / check-in
6:30-6:50 AppDirect Digital Commerce (Mathew Spolin - Global SVP of Engineering) (Charla en Inglés)
6:50-7:10 Using Event Storming to achieve Domain-Driven Designs (Ignacio Colombo - Software Architect)
7:10-7:20 Break
7:20-7:40 Continuous Integration and Continuous Delivery with Microservices (Valentina Moscato - Frontend Engineer)
7:40-7:50 Job Opportunities & Culture (Daiana Gomez Monfort - Recruiter)
7:50-8:30 Snacks & bebidas con el equipo