APIBA Business English Annual Conference 2017

Saturday, 4 March 2017 from 08:30 to 17:00 (Argentina Standard Time Argentina (Buenos Aires) Time)
Event Details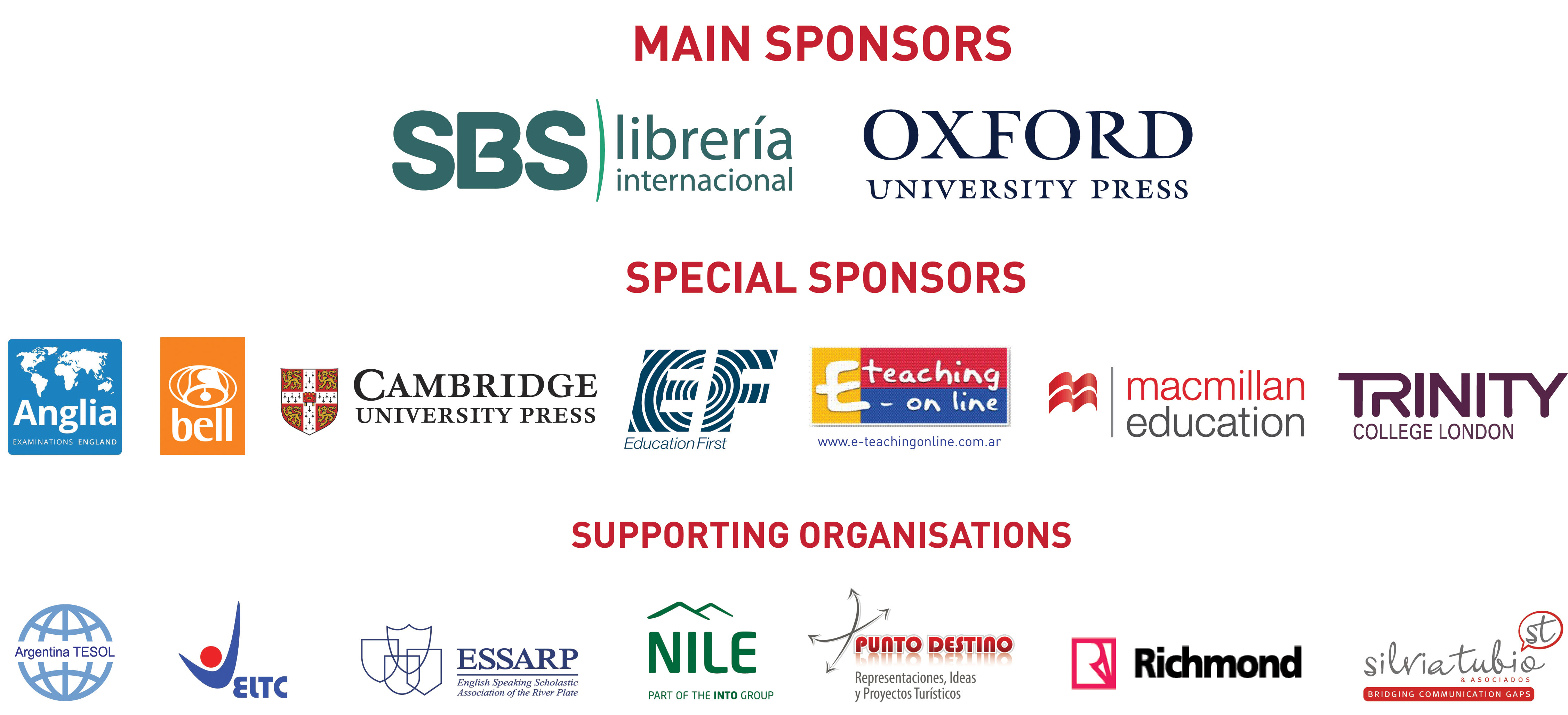 For enquiries: eventos@apiba.org.ar
FEES
Groups of 5 or more: 15% discount! (all categories)*



EARLY REGISTRATION

(until February 15, 2017)

LAST MINUTE REGISTRATION

(February 16, 2017, onwards)

ON-SITE REGISTRATION

Members and teacher trainees 

(proof of status required)

$ 320

$ 380

$ 420

AATI, AEXALEVI, SEA, other TA members

(proof of status required)

$ 400

$ 480

$ 540

Non-members 

$ 480

$ 560

$ 620
* If the participants in your group belong to different categories (e.g., APIBA members, non-members, etc.), please write to info@apiba.org.ar so that you can pay via bank transfer.
SCHEDULE
08.30 - 09.00: Registration
09.00 - 09.30: Opening. Virginia López Grisolía (APIBA), Alejandro Parini (UB)
09.30 - 10.30: Opening plenary. Pete Rutherford (IATEFL BESIG): Shifting from teacher to trainer
10.30 - 11.00: Coffee Break
11.00 - 11.45: Analía Duarte & Dana Poklepovic: The BE trainer's ticket to pedagogical heaven in 2017
11.45 - 12.30: Alejandra Jorge: What exactly is a freelance corporate language trainer?
12.30 - 14.00: Lunch Break
14.00 - 14.45: Cecilia Cicolini & Mabel Quiroga: Teaching and learning business English in the digital age: inspired by technology, driven by pedagogy
14.45 - 15.30: Cecilia Sassone: The teaching of grammar through the centuries and its approach in today's business world
15.30 - 16.00: Coffee Break
16.00 - 17.00: Closing panel discussion. Moderator: Ricardo Cavallini. Speakers: Analía Duarte, Dana Poklepovic, Alejandra Jorge, Cecilia Cicolini, Mabel Quiroga & Cecilia Sassone
ABSTRACTS AND BIODATA
1. Opening Plenary: Shifting from teacher to trainer
Pete Rutherford

Teaching business English in today's fast-paced, ever-changing business environment means being alert and receptive to the myriad of developments taking place in the world, the workplace and technology. Increasingly, with the ever-higher expectations of learning outcomes and clients' efforts to maximize return on investment, the training, materials and traditional role of business English teachers is proving inadequate. What worked previously is now a poor fit for the world we find ourselves in. One visible indication that teaching professionals are adapting to new and demanding client needs and expectations is reflected in the growing use of the term trainer instead of teacher.
The plenary will look at the changes that business English has undergone in recent years as well as those that lie ahead. It will also include input from BESIG's global membership on what the shift from teacher to trainer means and how IATEFL BESIG has supported them in making these changes as effectively as possible.
With an open mind and the right support, the speaker believes that business English trainers will continue to adapt successfully to many changes in the world of work and will be well-prepared for the soon-to-arrive next wave of disruption.
What is IATEFL BESIG? With over 4,000 members IATEFL is a thriving and truly global community of ELT teachers. IATEFL BESIG is the organisation's special interest group for business English, and is the largest of IATEFL's many SIGs. BESIG is a professional body which represents the interests and serves the needs of the international business English teaching community. It does this through regular face-to-face events, webinars, social media, and its own print, online, and digital publications. As of December 2016, IATEFL BESIG has paid-up members in 61 countries.
Pete Rutherford is an IATEFL BESIG Committee Member and its Web & Online Team Coordinator. He works as an in-company and online business English trainer and occasional teacher trainer in the Rhine-Ruhr area of Germany. Pete is currently involved in classroom-based research projects on communicative competence and BELF, and contributes to various business English and ELT publications. His professional interests include learning technologies, BELF, ESP, corpus linguistics, and learning to learn.
2. The BE trainer's ticket to pedagogical heaven in 2017
Analía Duarte & Dana Poklepovic

Business English prevails as a lingua franca globally. Our learners need the language to communicate both with native and non-native speakers. The challenge today is that our learners require a battery of skills including but not limited to knowledge of English to function properly in business contexts. In this session we will explore the pedagogical implications this has and what paradigmatic changes English teachers should make today to train BE learners from the BELF perspective, i.e. communicators who have real jobs to do and real needs to meet.
Analía Duarte (APIBA member) is a Licenciada in English, an English Teacher and a Scientific-Literary Translator from Universidad del Salvador. She has an MA in ELT and Applied Linguistics from University of London. She did an MA in Organizational Psychology at Universidad de Belgrano. She specializes in linguistic autonomy, corporate programs, and soft skills in English. Also, she is a teacher trainer, a lecturer and a speaker in conferences.
Dana Poklepovic is a BE trainer, an Organizational Coach and a Translator with over 20 years of experience designining and delivering communication skills programs in Argentina and abroad. At present, she facilitates leadership development programs and interpersonal skills workshops. Dana is a speaker in conferences and a member of IATEFL BESIG Online Team.
3. What exactly is a Freelance Corporate Language Trainer (CLT)?
Prof./Trad. Alejandra Jorge
The CLT: the knowledge, the tools, the skills.
The questions you need to answer... and the ones you need to ask.
Marketing yourself: more than a question of image.
The professional side of freelancing.
Alejandra Jorge (APIBA member) is an English teacher from Instituto de Enseñanza Superior en Lenguas Vivas "J. R. Fernández" and a Licenciada in English for Specific Purposes from CAECE University. For more than 20 years, she has delivered workshops and lectures on Business English training both in Argentina and abroad. Her presentation of the FTBE Course in Mendoza led to an award by the Education Ministry from the Province.

4. Teaching and learning business English in the digital age: inspired by technology, driven by pedagogy
Cecilia Cicolini & Mabel Quiroga
Technology has reshaped the way people interact, work and learn and the Internet provides a wealth of resources for learners and teachers: virtual learning/teaching environments, live communication tools, multimedia content, online resources, tools for content creation, etc.
In this workshop, we will discuss the role learning technologies play in Business English teaching and analyse web 2.0 resources which can be applied to develop all communicative skills, using a pedagogy-driven approach.
Cecilia Cicolini (APIBA member) is a teacher of English from ISP "Joaquin V. Gonzalez". She did an MA in Education at University of East Anglia, UK, and a Postgraduate degree in Educational Technology at Ministry of Education, Argentina. She is a Lecturer of Taller 3/ 4 (Campo de Formación de las Prácticas Profesionales) at Lenguas Vivas Spangenberg. She is the of NETWORK Idiomas.

Mabel Quiroga (APIBA member) is a teacher of English from ISP "Joaquin V. Gonzalez". She earned the Advanced Certificate in Professional Development for ELT professionals from University of East Anglia and the Principles and Practice of Online Education Certificate from University of Wisconsin, TESOL. She is an Education Specialist from Universidad de San Andrés, Argentina. She is a Lecturer of Espacio de la Práctica and Perspectiva Didáctica at ISFD 021. She is the Director at IdExt.

5. The teaching of grammar through the centuries and its approach in today's business world
Cecilia Sassone
In todays' business world views on the role of grammar in language teaching have changed throughout the centuries, swaying from strict prescriptive practices to actual denial. However, adults in the business world call for specific solutions. This talk provides an overview of key influential approaches, treatment in Business English textbooks and activities apt for a business context. It gives a glimpse into the latest trends.
Cecilia Sassone (APIBA member) is a graduate teacher of English (IES en Lenguas Vivas "JRF") with a BA Degree in English (UB) and three diplomas in e-learning/ICT (UTN/Net-Learning). She has worked at all levels of education, lectured at national congresses and taught adults extensively. She is the Director of the English Teacher Training Department at IESLV. Her 22 years of research have rendered the Spiderweb Method® for adult language learning.
6. Closing discussion panel

Moderator: Ricardo Cavallini. Speakers: Analía Duarte, Dana Poklepovic, Alejandra Jorge, Cecilia Cicolini, Mabel Quiroga & Cecilia Sassone
The conference will draw to an end with a panel discussion. Speakers will answer the questions that attendees will have left in a special box all throughout the event. The expertise and the solid and assorted backgrounds of all the conference speakers will make of this slot an enriching opportunity for the Business English teaching community to shed light on issues of interest and build knowledge together.
Ricardo Cavallini (APIBA member) has many years' experience as an EFL teacher and teacher trainer. He has specialised in Literature and Business English and done post-graduate studies in Literature at Exeter College, Oxford, and St Catherine's College, Cambridge. He completed his NLP (Neurolinguistic Programming) training at Anthony Robbins' Research Institute, California, and Escuela Argentina de PNL y Coaching. He is also a Certified Ontological Coach by the International Coaching Community (ICC). He was a tenured lecturer in Literature in English at I.S.P. "Dr. Joaquín V. González" for over 30 years. He currently runs Corporate English Language Training at several companies in B.A. and works as an NLP trainer and consultant to businesses, schools and professionals.

When & Where

Universidad de Belgrano
1837 Zabala
Buenos Aires, CABA C1426DQG
Argentina

Saturday, 4 March 2017 from 08:30 to 17:00 (Argentina Standard Time Argentina (Buenos Aires) Time)
Add to my calendar
Organiser
The Asociación de Profesores de Inglés de Buenos Aires (A.P.I.B.A.) is a professional, non-profit Association whose members are fully-qualified Argentine English teachers, graduates of official and officially-recognized educational institutions in Argentina (teacher training colleges and universities).
A.P.I.B.A. was founded in 1971 to address key professional needs. Ever since then A.P.I.B.A. has provided English teachers with a permanent forum where issues can be discussed. Its traditional Annual Seminar contributes to keeping teachers up-to-date by offering them the opportunity of discussing with specialists and colleagues the latest research and experiences in the teaching of English as a foreign language.
Throughout the academic year, A.P.I.B.A. also addresses teachers' specific needs by means of workshops and lectures which cover a wide range of topics. To encourage the participation of teachers and trainees working and studying away from the City of Buenos Aires, these activities are frequently held at educational centres located in cities or towns in Greater Buenos Aires or areas in the Province of BA with no local Teacher Association.
Aware of the need to enhance inter-cultural understanding, A.P.I.B.A. also provides its members with the opportunity of communicating first-hand with English-speaking foreign colleagues visiting Argentina on exchange programmes through panel discussions and informal talks. Finally, A.P.I.B.A. also represents its members in negotiations with education authorities.