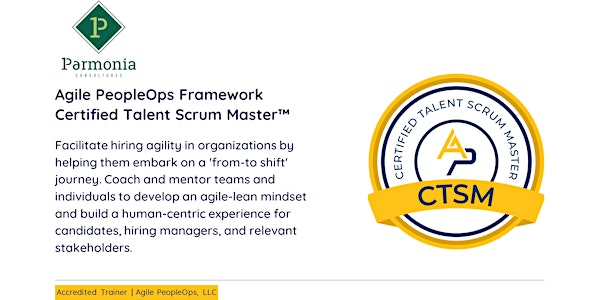 APF Certified Talent Scrum Master (APF CTSM)™| Dec 12 - 14, 2022
Facilitate APF™ Talent Acquisition to foster hiring agility.
Refund Policy
Contact the organizer to request a refund.
Eventbrite's fee is nonrefundable.
About this event
Agile PeopleOps Framework Certified Talent Scrum Master™ program prepares HR Managers, Recruitment Managers, and HR/Recruitment Leads to drive Agile PeopleOps Framework™ Talent Acquisition methodology at team levels, host & facilitate APF™ ceremonies, collect & report Agile metrics, and lead/host Communities of Practices (CoP).
Learning Objectives:
Learn how to embrace a from-to-shift mindset (from VUCA to VUCA Prime)
Gain a comprehensive understanding of Agile Methodology, Scrum, Lean, and Kanban
Understand Agile HR methodology – Agile PeopleOps Framework (APF™), and its manifesto, values, and underlying principles
Explore APF™ personas and their roles & responsibilities in APF™ Talent Acquisition
Gain deep-dive insights into the diverse stances of Talent Scrum Master
Learn to facilitate APF™ Talent Acquisition ceremonies and create Talent Acquisition visual boards for the "big picture"
Understand the need for conversations around Agile metrics
What You Will Learn:
By the end of the program, you will be able to:
Apply APF™ methodology and practices to your Talent Acquisition projects
Be a Facilitator, Coach & Mentor, Servant Leader, and Change Agent for your Recruitment teams
Prioritize and manage your requisitions to foster effectivity
Gain practical insights to apply design thinking and lean techniques to build and enrich your candidates' experience
Orchestrate with your hiring leaders and managers to redefine and redesign the current Talent Acquisition process and service
Practice the art of Connect-Collaborate-Cocreate to build APF™ communities of practices and guilds
Facilitate meaningful conversations around Talent Acquisition metrics to foster hiring agility
Who Should Attend:This program is ideal for professionals working in Talent Acquisition or Recruitment function who are interested to learn, practice and steer the Agile Recruitment process, including:
HR Managers
Talent Acquisition Managers
Recruitment Managers
HR Leads
Talent Acquisition Leads
Recruitment Leads
Participants who attend the Course and pass the certification exam will receive:
Agile PeopleOps Framework Certified Talent Scrum Master (APF CTSM™) Certificate
Agile PeopleOps Framework Certified Talent Scrum Master (APF CTSM™) Badge
One (1) year, Annual membership (To be renewed every year at $100) – Continuous Learning Units (CLU™) are encouraged to earn and can be utilized towards your renewal fee
Access to APF™ Community (opportunity to learn, share and grow with APF™ Certified PeopleOps Coaches & Leaders)
Invitation to Quarterly Coaching Calls (randomly selected)